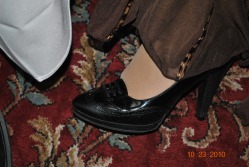 Although the street I am finishing is blackened in shadow, I all but duck behind a parked car as I pass the one neighbor we (sort of) know on this block, the handsome but sad guy who sloshed passed us Halloween night.

His garage door wasn't opened when I walked down the road but now it looks like he might be tooling around on a wood-working project I have heard so much about from his wife, a stereotypical blonde suburbanite I don't care for but "know better" than him.

(Duplicate her to the 100th power and you had the composite of my neighborhood. . .)
"All energy and no feelings," Dido whispers into my head through the ipod that I've almost clocked more hours with on foot than I have driven miles in my car, and I nod as if to tell the singer I understand how she feels.

I had started the night walk to clear my head so I didn't want to hide like a hoodlum or worse, be forced to make chit chat, especially when I was a dishrag.

I felt too raw, and if conversation was candy in a pretty dish set out to share, then my decorative tin was empty (no words and even less emotion with which not to utter them, kind of deal).

But as I skidded past, undetected, I wondered if I was wrong about him:

what if he was merely weird like I was, a misfit in his surroundings?

Shoot, I didn't care for his wife either.

What if he was turning to drink and escaping to his garage—filling it with lights & music that made him feel better—to feel something?

What if it was that bad and he was doing everything to keep from abandoning her and their children?

Maybe he was married to a bore and his wood works were good.

Maybe he was a frustrated artist at heart (and one should walk a mile in his shoes).
The play Steve and I saw at Trinity University last week weaved through my thoughts, Berthold Brecht's unfinished The Good Person of Setzuan.

And it, like all great literary art, lanced my soul with its creative display of truth:

the heroine, blessed by the gods for her charity, does her best to change her station in life but in helping others (a constant struggle—the more she gave, the larger the crowd who showed up at her doorstep to take) she is almost sunk.

(Is it possible to be too kind?)

I wanted Shen Te to change the world but her obstacles were so relentless that events were altering her. . .How long can a dog paddle in the water until he loses his love for the swim?

And, a drowning person cannot save another from drowning.
I sped up my walk, taking deeper breaths and taking time to notice the full moon, which was low and orange in the sky, the same marvel that has inspired centuries of poets before me (so I wasn't going to try and add anything new to that ancient trend), but I enjoyed it as a visual bonus for my exercise.

I knew I aspired to be that heroine, helping others, but I had to admit that, at least at one low point in college, I was more Blanche Dubois ("I have always relied on the kindness of strangers") then Shen Te.

–I was a poor but industrious student and a wonderful teacher offered me use of the computer, as well as the peace and quiet of the department she worked at, and I went there (instead of the pubs or clubs like more clever co-eds did) many nights, making use of the technology to revise and edit poems for my manuscript.

Computers were new then and I had never used a floppy disc; she had even been so generous as to give me a used one, telling me I could erase some documents on it, if I needed the space—so I did.

Or, I thought I had, until I got her query to the departmental staff (and to me, the squatter with privileges).

Now, there was no malice of forethought or sabotage in erasing what turned out to be critical data for a study they were conducting, but my ignorance didn't explain away or help regain research data that was lost.

Deleted.
I called my sweet teacher and told her to look no further, that the culprit was probably me, and that I would do everything in my power to do the footwork necessary to help them get those reports back up and running, even if I had to manually input those findings myself.

(Now that I think about it, no wonder she told me, thanks, but no.

Who would trust me around a computer after that critical error?)

Worst part is, I believe she quit after that, left the department and transferred to another university at the end of term.

C

ompletely professional, she insisted her decision was due to politics within and other troubles (and I forced myself not to be so egotistical as to think it was all about me, even negatively), but maybe my snafoo was the straw that broke her when all she was trying to do was good.

Hers was the cleanest gift of trust that anyone had ever trusted me with up to that point and I had, innocently enough, blown it.

Kicking my shoes behind the front door, I realized I hadn't dredged up that incident in years, and I wanted that Angel of Mercy to know I was still writing (and had mastered the finer points of technology) and even if I never filled her shoes I prayed that wherever she was, tonight, that she was still comfortable in the water helping others learn to swim.