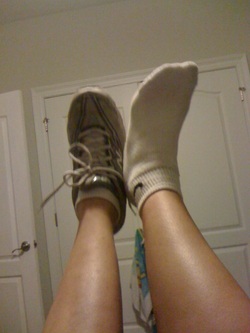 Homeward Bound & unbound (Alice & me)
"So, whachu had to eat since you been hea?" Ms. Ann asked once Alice, Amy and I had cleared dishes from the Sunday brunch Ms. Ann had whipped up after mass:

mixed salad with a chicken gumbo stew served over rice; garlic bread and stuffed artichoke greeted us at the table. The men had transferred their swollen bellies to the couch to aid digestion with an after-dinner bout of televised sports while the ladies socialized at the table. (And sweet Sydney, the only available grandbaby, chatted to us on her plastic phone and moved all eight of her play chairs to take her pretend friends--stuffed animals and doll heads--to the "show.")
Although I felt like big ole Bubba Gump, I answered, "Fried shrimp, shrimp creole, boiled shrimp, shrimp fettuccine, a barbecue, and chicken fajitas, but it's all been so sinfully good that the dishes are swirling together in my mind." As I listed for Ms. Ann, I sipped coffee, a forbidden treat on any given Sunday (or any other day of the week after late morning since I was caffeine-sensitive). But, how cool was that to be in a city so stacked with fantastic cuisine that you could fall off the sidewalk and even the Mudslides were to die for? What's not to love about a town whose inhabitants were so steeped in food excellence that eating was a favorite topic? I would not be surprised to learn that the women here even cooked in their sleep (and was it any wonder that Alice's older son was finishing cooking school in Boston?).
Alice and I had been friends for so long that her people were mine—especially the in town in-laws, Ms. Ann & Mr. Sonny, characters that I felt the need to visit on these trips. But, I kid you not, New Orleanian meals are worth discussing, as food is a strong presence in this vibrant storyline and it is often strategic: it can be a deal breaker or maker, depending on the occasion.
Lunch my first real day was spent at Café Reconcile, a restaurant that stretched at the seams when the four of us arrived: Alice, two of her coworkers, and me. Perhaps it bustled that day because the Essence Festival was downtown, close, and the eatery may have appealed to the conventioneers. The place was very FDR and social-relief effortized and, obviously, someone was doing something right because there was nowhere to sit. Yes, the menu boasted a killer white beans recipe but just as many patrons were drawn to the philanthropic aspect: Café Reconcile was a rehabilitative program and a majority of the restaurant's proceeds went to sponsor the at-risk teens who cooked, cleaned and waited tables there. I loved the idea, I loved the food, and I loved what they had done to decorate the space (local, folksy art).
But, when visiting New Orleans, what you really have to reconcile is that you rarely have time to get hungry before the next feast is laid out with an effortless elegance, looking too good and smelling too inviting to pass up—so you end up grazing until you nearly explode. Truth is, any meal you turned down would only taunt you after you left the city. When your appetite actually returns, you'll be staring down the plate of something run of the mill, recalling the treasure you refused. . .and so it is that I ended up Uptown a few hours after eating beignets, meeting an old-student-now-friend for gumbo on a trendy part of Magazine, a renovated street where I had worked thirteen years ago, slinging pizzas.
Oh, I could go on and on but it would all still be sensory overload, too much for me to take in—the fresh vegetables and seafood, the drink, the conversations packed with questions, attempts to tighten loose ends because Lord knows when we will see one another again in person (not any time soon), and let's not talk about the French bread and desserts (which I mostly have turned down), items that will haunt me when I am back in Bland Land in pants I can no longer zip. Damn you, butter, & you spicy, generous Cajun cooks!