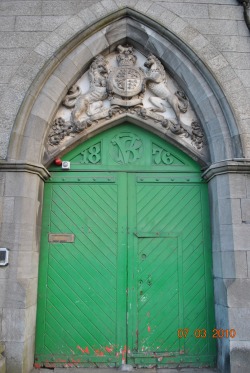 Ok, Daniel, so maybe blogging isn't a good idea.

(How long did you say you'd lasted--two days?)

What if it is too much or I am not cut out for this?

I've never followed a blog.

How long are they supposed to be: is there a word limit?

(What about a maximum amount of time it ought to take me to find those words—and could the expectation of them just go away when that time lapses?)



Must I post every day (because that ain't happening)? It's quality's fault, right (meaningful entries demand time)?

Does it flow best if they're project-oriented like the famous copy-Julia-Child's recipes and the lovechild that has sprung from it like a full-grown Minerva from Jupiter's head—the Dress-A-Day blog?

I cannot surrender yet and am not ready to utter, Uncle!, but perhaps I should have agreed to draw stick figures for a year.

Oh, Dear God, this is a meta-blog. I am now blogging about the process of blogging. . .What's next? Will I, desperate, resort to posting algebraic equations in lieu of verbal pictures? (And, what do you call this being stumped in the blogosphere, writer's blockette? Writer's mini-block? Mini-writer's square?)

And this, four dogs at my feet, isn't working for me either. Cooped up while I have been at the office, they are pestering me for attention.

Let's try writing outside today, yeah! I'll even take the hounds.

It will be a nice change of scenery for me and why not let them run around?

Besides, it may be while I am cloud-gazing that elusive inspiration will light upon my laptop (instead of the flies that started buzzing me the moment I stepped onto the patio). . .

Anyways.

As I was saying, when blogging came into existence, I tripped across a lady's site and read it the day she quit:

I discovered her last post first.

She claimed she resigned because blogging kept her from "writing" (what is a blog, then?).

Wanting to be a novelist, she said the time & energy she poured into daily submissions could have been channeled into writing her novel (or as my Mom liked to carp, "The woman is robbing Peter to pay Paul.").

The poor thing had a point: w

e are not tireless creatures of infinite patience & creativity.

No one can sit in a cubicle and chunk out Magnificats, one after the other—or, you can, but for how long?

Two years ago I designed a free writing workshop for a stay-at-home mom who crushed on memoir but couldn't afford a standard education or the time away from her toddlers, and my theme centered around two quotes:

"The unexamined life isn't worth living" (Socrates) and Twain's, "But a life too closely examined isn't lived at all."

T

ruth lies embedded at its nougaty center or, as I shared with my friend then, A writer's place has to be somewhere in that magic middle, but such a balance is hard won and seldom found.



I don't know, though.

I am not convinced that harmony is about picking something less ambitious, for what can a soul pursue but its voice and the yearnings that engenders?

It is, unfortunately, a lot like maintaining a balanced diet or any long-term goal. How easy it is to strike up a new regimen and tough to stay committed and consistent.

Sometimes you want to eat a bowl of fudge, and other days, you can touch nothing for lack of appetite.

Or you, mortal being that you are, merely desire a break from chewing. And then, rare as it may be, you will one day have to break down and break out the DO NOT DISTURB sign.

--Hold on.

What is that smell? Ugh, the unmistakeable stench of dog poop baking in the Texas sun.

Who

could concentrate with that odor choking her? I will have to go get the tools to clean up the yard (which doubles as the dogs'restroom). . . . Back!

But now I have lost my thought.

"Coming, honey." It is just as well. I have chores, and my husband is at the back door, signaling me in to dinner. (Saved by the supper bell.)

Well, so be it. Life doesn't just happen: it must. Dancers have to dance, and writers must (have something to) write (about), but maybe Samuel Taylor Coleridge had the right idea when stuck with "Kubla Khan," not that I put much stock in drug literature:"Oh, I must go.

There is a man from Porlock at the door."

Because, sometimes, Dearest Daniel, "Porlock" is author's makey-up for poor luck, distraction is (Wo)man's Best Friend, and interruption is salvation.