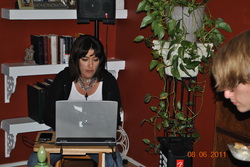 It's been an amusing first week at school. . .

On Day One, a Wednesday, I left home an hour early and ended up ten minutes late for class because I was stuck in a traffic jam for 46 minutes (25 of which were spent traveling exactly one exit). Then, I had to park at the stadium and walk to the theatre building, which has had broken plumbing for a month—and signs posted on the entrances report it'll be another three weeks until it is fixed, and due to rolling blackouts, the air conditioning was on 78 degrees, if it was on at all. So, I had to visit the boiling hot sarcophagus of a portapotty before I tucked into the hour and a half class, where the teacher's opening remarks included this sentence: "It is the rare graduate student who doesn't melt down and come crying into my office AT LEAST ONCE before midterm." She discussed the importance of coming prepared to class, and arriving in a timely fashion. Then, she informed us of a schedule change, which meant I would now have to commute five days a week for one class each (three total courses).

Day Two, I left an hour and a half early for my afternoon class, even though I knew it would be a longer day, with a Majors' Meeting, and an Advisors' Meeting, after that, but before season auditions, which were scheduled until midnight. (And, I had been forewarned that, as House Manager, I would be introduced, separately, to the auditorium packed with undergraduates, so I had tried to look especially nice, despite the heat and the long walk to class.) Wouldn't you know, after months of no rain, it rained the last sixteen miles of my drive in to the university, and then it not only drizzled on me as I walked, but my flip flops did just that: they flopped down and then flipped up muddy droplets on my calves and legs—all the way to the buttocks (talk about your splash zone). I was a speckled, wet mess by the time I got to the theatre building, which had no water for me to wash off my legs. . .Nice.

The nicest thing about it all—which reveals the torturously-slow rate of my personal growth—is I remained calm and took these obstacles in stride, dismissing them as unimportant tidbits of life's unnecessary roughness.

Now, on to the reading homework and a writing assignment.