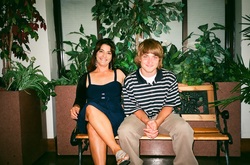 Equipped with a brimming cup of coffee and twelve ideas I had to jot down before I lost them, I sat down on the living room couch this morning—just me and my son's gym socks, soaked in last night's sweat and black on the bottoms, sitting on his cushion of the couch where he left them. The remotes were out too on a tray table. (Perhaps he had been abducted?)
I shook my head as I heard the shower running because I woke him twenty minutes ago to remind him that his senior picture's appointment was for 10 a.m. (He had assured me that he had set his alarm, but he was in REM when I woke him at 9:20.) Who knows how these pictures will turn out at school from the firm the district contracts to do yearbooks? I don't think I ever got a decent picture out of any of those rushed sessions when I was a kid, not in twelve years.
"Make sure you shave off those scragglies," my husband had instructed Seamus yesterday, as we walked the four dogs through Crescent Bend Park, our event for family day since it was Steve's turn in the rotation. I was miserable and only partly because it was a mindbending 105 degrees outside, the dogs collectively panting so loudly it sounded like the emphysema ward.
"What are you going to wear?" was my concern, thinking I hadn't seen my son in anything but jeans and graphic tees with band names in four or five years, and it was his long hair that drove me to the treetops. (Although who can deny it: you know you are living in a dress down time when even the old ladies wore flip flops—to church.)
"They give us like a fake tuxedo front to put on," he assured me.
I had to laugh at the scenario of my punkrock-loving son with his Scoobie Do beard, Justin Bieber hair, Elvis Costello glasses, Motion City Sountrack t-shirt and grey skater's shoes underneath a faux tuxedo—with the shirt and bow tie glued to the jacket as a single unit that one merely tied in back like a hospital gown. Talk about unnaturally uncomfortable.
You have your child, you watch him grow, and you anticipate the passage of important events like senior pictures, but when this rite of passage finally arrives—unless you are a supreme spasmoidal—it is up to your grown son to go and be himself (which means show up in whatever costume represents whatever phase he/she is going through). You, the worried mother, stay home and wait for the proofs to come in the mail and pray that there is one shot you can abide or stand to look at, staring back at you for eternity from within a coffee table picture frame.