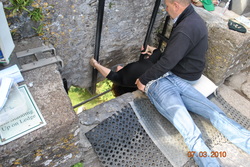 Is there a rage contagion, or do I find the one person who says the wrong thing at the worst possible time? It's like the comedy skit Steve and I saw years ago that's become a part of our family dialogue, releasing the catch phrase every time someone hears us backwards—or doesn't hear us at all—and things go haywire. Guy One in the skit instructs Guy Two, "Never put salt in your eyes." Then, later, whenever Two is stressed and tries to remember what One instructed, the "Don't put, don't put, DON'T put salt in your eyes," becomes "Put salt in your eyes," and the skit ends with the man screaming in agony.
So, there I was at the graduate advisor meeting, calmly and, yet, spontaneously rolling along, until she asked something like, "So what's your deal?" or "Tell me something about yourself." I had thought all my "splainin to do" days were behind: I had pierced the veil and was storming the castle. I'd felt sure no more personal questions were required, and so, yes, dear brothers and sisters, when I'd thought she'd gone there, catching me unawares, I chose that moment to unravel, rather uncouthly. –Oh, you didn't want my whole psychological evaluation, how my daddy was a ghost and my mum had done me wrong? Jeezem Pete. Needless to say, as soon as I was done (summarizing my existence on the planet), I realized the blunder. I feel certain she now, more or less, thinks of me as what I had read a reporter had said about Tori Amos after an intimate interview: "She's a 24-karat fruit loop."
This happened less than 24-hours after another well-meaning (?) writer friend had told me about the long hours involved in my new gig as House Manager and how far away the parking lot was from the theater, adding, "But, think of all the weight you'll lose. It's a great way to lose weight. I sure did when I worked there." Did he know I walked five miles a day already, for exercise, and had struggled with weight my entire life? Or cared that I had been on low thyroid medicine for eleven years, a dosage they just bumped up because my system was running sluggishly again? I guess I should just be grateful that he didn't ask me when the baby was due. . .
Then, this week, I have been hounded by four friends I haven't had a genuine dealing with in five years who are looking me up, out of the blue, right when I am getting ready to put my beak to the grindstone and become a human blender of busy-ness. No, so sorry. No time for grandiose reunions after all this (neglect?) time. Check back in another couple of years, when you think of it. If you're still curious.
Finally, here is another helpful conversation I had this week, shared to get me back into the swing of academic rigor (?). It went like this: "Hers is an intense class. A helluva lot of research and library time. Citations. But, don't panic. Cause you know what happens when you panic, and that's the only thing that could make this class more terrible than it already is. You'll freeze up, and you don't wanna do that. –And, the professor's harder on women. She really rides the females." Hello? Come in, Berlin. Houston, we have a probl. . . (Are you trying to make me throw up? Or, quit before I've started?) Must I kill you to make you stop talking?
People, people, people. Friendly advice should be. . .uhm. . .friendly. Who doesn't know that this is not the preferred approach in tenuous situations? It is just as bad as is approaching a nervous pregnant lady and relaying to her all of the life-threatening breach birth stories you have caught on a televised ER show: Don't do it! And, never ask a woman if she is expecting, unless she has shared with you, first, that she is. Besides, if your aim is truly to be a well-wisher, then stick to a safe conversational path, and remember that most personal "teasing" requires a trustworthy foundation. Shortcuts don't work if you haven't put your time in, first, as a confidante. (If, however, there is a sign on my forehead which reads, Torment Me Further, I'd appreciate it if someone would, please, clue me in so I can remove it.)