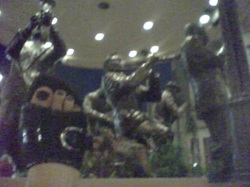 "Yogi just pooped a whole pepper. It even had the stem," Alice announced, coming in from the back yard, dogs like rolls of thunder at her feet.

She put the ripe tomatoes and cucumbers she had picked from her garden on the window sill, lining them up so we would eat them in harvesting order. I was desperately jealous here, as Alice seemed to be Hestia, a mythological symbol of fertility, squashes and jalapenos dropping off the vine at her feet and flowers blooming wherever she had bothered to plant her shovel.
It had been a hectic couple of New Orleans' summer days, starting early with beignets and café au lait, critical items on my shrinking Re-visit Checklist. There Alice and I were sweating (because Alice is too accomodating and I will ALWAYS choose an outside venue over a climate-controlled environment) during our morning caffeine and powder-sugar laden treats when I asked for the check. "Your bill has already been paid by a gentleman inside who said that he would cover it." Oh, Alice and I thought, what a nice surprise.
But in the restroom on our way out, Alice had an attack of Catholic Guilt, most probably because she lives here and has to deal with repercussions. "The waitress pointed out the guy but I didn't know him. Isn't that odd?"
"Maybe it was the wife," I had suggested, waving my hands in front of the fickle but automated paper towel machine. "At this point, between Dominican and Ursuline, you have taught just as many girls as boys. –And, I did have coeds when I taught English composition at the University of New Orleans but fat chance of them paying for our breakfast for that. Who would remember or recognize me after all of these years? But what difference does it make? Let's not look the unicorn in the face."
She looked at me doubtfully.
"Alright," I said, opening the door with a paper towel before tossing it in the garbage, "we'll swing by their table and say a quick thanks."
She looked even more horrified.
"Follow me. I'll lead this parade." And, we did, circle up one aisle and down another before exiting, saying "Thank you" to the anonymous man, woman, and child who stared back from the window seat as if stricken.
As Alice and I continued to ponder our good luck, strapping into her car for our next stop, our waitress came not-exactly running out to the parking lot. "I'm sorry, but . . ." (blah blah blah the rest is history).
"Well," Alice teased, as we finally pulled back out into traffic, "so much for the FREE fourteen dollar beignets, huh?! We shoulda known better."

"True, unicorns, free beignets: there ain't no such thing," I laughed. "So we paid for our own fried dough, so kill us for our magical thinking. Let's go to Magazine."

(Next installment, "Cafe Reconcile")