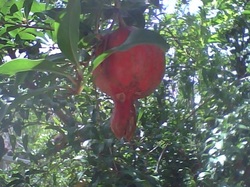 Pomegranate tree
Of the recent coinages—and you know I love me some new words—one of my least favorites is the overly-popular "staycation." If I was a kid, maybe I'd fall for that, my parents trying to dress up the fact that we were going nowhere for the summer and had no plans to do anything fun. (For the record, we never did go anywhere overnight or far away. There were too many of us. The entirety of our "vacations" was a day at the local amusement park—usually when my uncle got us reduced tickets for the annual Plumbers' Picnic, and we brought a cooler with bologna sandwiches from home.)
"Staycation" says, here is a plate of cold liver and onions, but let's call it pate de foie gras: "goose liver by any other name would smell the same." To me, that's William Shakespeare about as accurately as the staying part is to vacationing. Nuh uh, cannot happen. You can't stay and vacation—or vacation where you stay. The words not only cannot co-exist, it is impossible to make them a single word: each word is the other's opposite. Can a victim be "fatally healed," or a worker "gainfully unemployed"?
A vacation requires that you and the family get out of Dodge. Period.
. . .So, there Anthony and I were at The Carriage House Restaurant inside the San Antonio Botanical Gardens, spending the afternoon touring the buildings--climate-controlled structures with the most extreme flora within them, arid, temperate, or swampy, depending on the environment that was being replicated--and the amazing grounds. I was helping him enjoy his "staycation," and I must admit I loved every minute of it, although I was aggravated at myself. How could I have lived in San Antonio for over a decade and never been there before?

But, I hadn't. . .
Because we are in water restriction and the average summer temperatures outside run between 105-115 degrees, the Japanese gardens did not thrive with their usual plumage, according to Anthony—a veteran garden-goer who had brought his camera (and a tripod that never did get out of the bag). Many waterfalls and structures made for the peaceful sound of running water were out of commission, but I was amazed that, in this treacherous heat, the gardens in this 38 acre expanse were still so bounteous and fertilely colorful.
One moment we were in a desert room with cacti that looked like they had been spun in cotton, and something titillatingly called a "button nipple cactus," and then we stepped into an ancient looking dank forest enclosed in glass that had gigantic ferns, mosses and rain forest flowers as large as my head in hot pinks and deep reds and purples. It took no creativity whatsoever to imagine dinosaurs and otherworldly extincts eating the foliage and prowling beneath the huge leaves.
What I liked best about the adventure—other than Anthony's meatloaf, which came out like a three-tiered mountain with a leafy sprig on top that made it look like a palm tree on Gilligan's Island—was the art that was interspersed at the most scenic places. Mixing manmade sculptures, colorful rocks and ceramic objects alongside, and in and around the earth's natural majesty filled my artistic heart with inspiration. (I especially loved the whimsical tree that had twelve chairs of varying colors and styles woven in its branches as fruit: "The Chairy Tree.")
The saddest part was we seemed to be the only patrons there (and we should know because we took hours, strolling the landscaped paths and areas, stopping so Anthony could get pictures of the roses, bees, and butterflies.) "It's hard to believe that no one else is out here, enjoying this. It's kind of hard to keep all of this beauty to ourselves."
"Well," he said, tossing his camera bag into the trunk, "it's like you said. It's awfully hot out here."