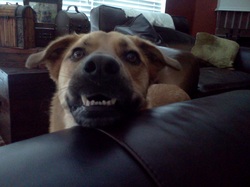 My hands were loaded with groceries and I had to side-step quickly to avoid getting run over by a car that was backing out of its parking space—which forced me to look, and that's when I noticed the vanity plates: "CU LQQN."
First of all, I thought I had heard somewhere that personalized plates were on a down swing; fewer people had ordered them last year than ever (a symptom of recession? Or common sense and good taste?). Second, I am about as terrible at deciphering them as I am at reading text-speak, not to mention all those dumb abbreviations (i.e. ROTFLMAO). I never do quite know what vanity plates' holders are trying to creatively spell, but I knew for sure that I will never want a license plate that police could memorize or trace so easily, not that I am living the gangster life or anything that outrageous. (Although I'd be lying if I said I didn't want to be on somebody's "most wanted" list, just not the FBI's.)
But, as much as I had convinced myself I wouldn't give the stupid driver another thought, deciphering that plate obsessed me for a minute, and then, okay, big deal: so it stands for "see you looking"? What the hell is that supposed to mean? What, seeing your car should immediately fill me with vehicle envy? We obviously live in the same neighborhood and shop at the same store so what is that all about? But, let's be clear: I am not—to resurrect an 80s term—"jockin' your ride." (If I am not mistaken, the plate also had that heavy chain welded around the frame. . .) Of all the pet peevish tangents, there I went--and I was going in deeper.
Here is where I will get ignorant for a moment. Without seeing the owner and having never met him or her, I would guess that other items they would like, own or be attracted to are the following:
·
French nails—on their toes
·
A Rottweiler or a Pit bull
·
Pink fuzzy steering wheel covers
·
Green Apple wine coolers
·
Sweat pants and uber short shorts with words like TEASE and HOT STUFF on them
I strapped on my seatbelt, laughing at how crazy moments and random exchanges send our already crowded minds down rabbit trails we can barely escape, because just two minutes previous, I had fallen in line at the checkout behind a woman that I "knew," but had never liked and hadn't seen in six years. You know how it is: you recognize someone that you associate as traveling in a certain group—like a fellow mother from the football field or a lady who ran a group at church. Or, a worker at a convenience store that you go to, although it is a little out of the way, because they have a certain product for a certain price that no one else carries. I wanted nothing except for her to leave without noticing me (there's that reason I will not wear slogans on my person, again: to be more invisible). She's right up there with those three people I run into all the time who I don't care for--but she's a sea urchin from days gone by.
I "worked" with this woman (we were substitutes for the district, before I took a full-time teaching position; she was an aide). I don't remember her name but her qualities are emblazoned in memory: she found where teachers had their nametags made—and had ordered one for herself so that the kids would mistake her for an official teacher and "respect her authority"; she began to recognize me as a regular and would seek me out to chat me up, talking to me once the entire time I covered a class (!); and I knew way too much in too short a time about every aspect of her personal life.
Please don't tell me, because I don't want to know the results of your pap smear. Nor do I care where you buy your cars, your license plates, your false nametags, or your clothes. I am not a fan of opera, but my car is big (because I have a bad back) and I have a big dog too—plus three smaller ones. Don't judge me or give me anything about which to profile you. A little mystery is a good thing. Let's share the planet. --And, turn off car alarms and cell phones when watching a public film.