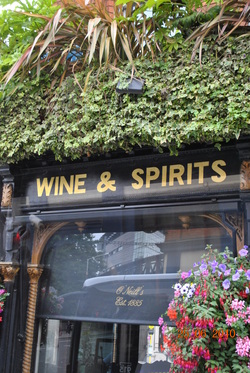 I just received an email from an agency that rejected my book proposal, which is par for the course—except that it came in triplicate (posted at three different times) so it felt like they just couldn't reject it enough, as if it required a three-strikes-you're-out handling. But with an optimistic heart because this was all I had to cling to and I had been waiting to hear, I read it aloud to my husband, saying, "It's a rejection, but they said some pretty nice things about the piece, and they even called me a fine author."

Then, I made the mistake of opening the other two (why? In case they had changed their minds and were recalling the rejection?). The third email was addressed to me but it was for someone else's manuscript, and those nice words that I had thought were selected for my writing style were a part of their form letter. In reading that mislabeled third rejection, I had robbed myself of the streak of sunshine that I had (thought I had) found among the clouds. (I did reply to the mistaken post, if only so the real author of that story gets final word because--like with a Missing Person's Report--the only thing uglier than finding out the worst is not knowing and hearing nothing at all.)
The problem with this process is that, sometimes, this is what happens when they write back. Years ago when I was shopping some new poems, one academic journal mailed their half-sheet mass-produced rejection in the SASE I had included for the safe return of my precious babies—but they had shipped it with another author's submission. How careless is that, to be rejected so haphazardly that the gatekeepers didn't even put the correct materials in the connecting envelope? I know it is suicide for an author who is seeking publication to complain about The Way Things Are but, honestly, the one-sided rules and professionalism are scandalous.
I have heard a half-dozen panels stuffed with the overwhelmed elite of the publishing world who tell you, point blank, that they are looking for a reason to say no. This is no scare tactic but their rationale for everything from why your pitch, query, synopsis, first chapter, first 50 pages, and every carefully considered adjective therein and thereafter must be top notch—or else OFF WITH YOUR HEAD. But how many of their letters, websites, handouts et al are crowded with mistakes and errors, and talk about your uninspired prose! One lady nearly bragged about how her first filter is for people who generically submit to To Whom This May Concern, Dear Editor, and the like, but she went on to say that she would automatically delete the submission if it hadn't correctly addressed her as a Miss or a Mrs., let alone, if they had skipped the formal title altogether. "An author needs to do her homework. He/she should call the offices and ask what title someone prefers to be called by, if they don't know." (How would anyone ever intuit that detail?) Really?

Really really? And, I know that authors are desperate nobodies, but would I want someone that petty and callous representing me, anyways?
When representatives become celebrities and novels are flushed in the first few pages for having too much exposition or interior dialogue to secure a sense of character so the "pacing seems slow" and "there isn't much going on," I recall the two brave and/or antagonistic graduate students (MFA candidates) who brought in lesser known but published pieces from famous authors to workshop—and the work was panned and otherwise slaughtered by the critics in the class. Trigger happy, yes, but the point was made. How then, in a volatile climate, does an unknown, unpublished piece stand a chance in a matchbook kingdom of literary pyromaniacs? I know, I know. I need to have thick skin about this and a sixth sense or a third eye about trending topics but I keep imagining lots of babies burned in their bath water. . .
On days when writing seems like the least important part of the publishing process, it is close to impossible to believe that any human being has the patience, the fortitude or blinders thick enough to pedal over the corpses of the competition who weren't so steadfast. If only I could get behind the ball and remember that a rejection means that I am in the game and trying to get on the field, if not to base. But all I feel is a James Bond cliché where I look straight into the camera, holstering my laptop while Die Another Day and the credits are slapped across the screen before I slink off to the brothel slash bar.