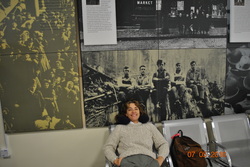 "Put your hands over your head and don't move," the TSA official instructed as I struggled to absorb what was happening, barely awake at 4:30 a.m. Friday and doing my best after being pulled out of line to stand still on the yellow-painted foot prints until airport personnel had microwaved my bones or taken an ultrasound of my internal organs—whatever it was the idiots were doing to me "at random selection." (I knew better than to wear jewelry or tote liquids like hand lotion, and my shoes and carry on were already on the conveyor belt getting x-rayed. Our plane left for Cleveland in an hour but I suspected I might still be standing here. . .)
"Do you have a belt on?" the unsmiling man who was conducting the experiment asked.
"No." I looked at him tersely and bit my lip, tugging up my shirt so he could see for himself (and get a peekaboo at my belly button in the bargain).
"Anything in your pants' pockets? Empty them."
"They are empty," I said peevishly, feeling my Irish flaring and like I might spontaneously develop a mutant skill where my Stretch-Armstrong rubber tongue flies around the machine and usurps its energy source, zapping me into the 50-foot-woman who could WALK to Cleveland for free—without the newfangled harassment techniques of these pesky union workers.
"Even of paper?" he continued as if he didn't believe me, and then when I cleared the Star Trek-beam-me-up-Scotty-pod the woman at the other end of the twilight-zone tunnel blocked my escape, holding some kind of stun gun and telling me to stand still until she got the signal.
"When did this crap start?" I asked my husband. He and my son were long-since reassembled, belts and wallets back in their pants and shoes laced over stockinged feet. "And, why does it have to be that no matter where we are or what the system is, I will always be "randomly selected"?
Now, since 911 I have understood but detested the insane airport pat downs and shoes off, coats off, belts off security rules that have ruined an otherwise mundane flying experience, but what is it about me that gets me body checked every single time—after Cancun going through customs (where my dutiful husband had declared even the breaths that we had taken while visiting Mexico), coming back from Ireland (at three different check points!), and now for a quick weekend home for a graduation party? I would suspect that it's because my best friend growing up has a father who is a senator, or that my brother flew for Air Force 2, or even that I had been to the Middle East and studied Russian in college—but I honestly think it's just my aura. It truly is like the Midas-Touch on Backwards Day.
Funny thing is, it is a bit disturbing that my knee jerk reaction is to be a jerk back—but that doesn't work too well for a lay person, now does it? It's like arguing with a judge in court, a referee during playoffs, or a police officer when he has pulled you over for a bogus offense:

Fighting back in these situations will only ever end in the alien anal probe.
As I walked away I wanted to lodge a complaint (and, really, cuss somebody out) but I just kept thinking, "You're gonna wind up in the Slammer," and it irked me that I had paid $1,400 to fly coach to Cleveland with my husband and son, only to be stuck in the last row of the plane (seats which have buttons but don't recline—although the heavy man in front of me had his head in my lap) where flight attendants will serve me two tablespoons of a can of soda I will have shared with fourteen others. All because I refused to pay the $10 each way, per person, fee in order to get a number that isn't C45, C46, C47—"oops, there aren't that many seats on the plane. We've overbooked. . ."
Then during a long layover, I had the supreme irony of watching a news story on an airport TV about an elderly woman in a wheelchair who is currently suing TSA because they had detained her for 45 minutes and made her remove her adult diaper so they could give her a full pat down.—All I can add to that indignity is that I do, indeed, hate terrorists in whatever job description I find them.