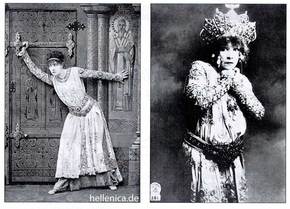 Sarah Bernhardt
As my first year as a Drama Judge for the Alamo Theatre Arts Council comes to a close, I'd like to salute the many crazies I have met along the way, both on- and offstage, starting with the elderly lady who spasmed in front of us at one of the tinier and most claustrophobic community theaters. This fragile flower managed to cough through an entire Act as her advanced- in-age daughter and son-in-law ignored her, but the Silent Treatment they were inflicting upon her did nothing to quiet her; in fact, I believe she responded by investing even more vigor into the cough as if she were a downhill snowball increasing in volume, speed and density. Although the narrative onstage was completely lost to me, I did—unlike the daughter and son-in-law—hear every word their disgruntled homebody mumbled and when the hacking took an unexpected dive into the deep end and the woman emitted a death rattle of a choking sound it took every ounce of strength I had not to stand up and administer the Heimlich. (But nobody gave her a TicTac, a sip of water or even wheeled her out of the room to die in peace.)
Surely there exists somewhere a written etiquette for theatergoers that this dysfunctional family ignored in its entirety, and I do not know how the beleaguered actors on stage continued along nonplussed but I heard so little of the storyline I had come to see that I got enraged that nobody had seen fit to remove The Cougher & Kin. My thoughts grew pretty murderous as I sought a solution, wanting to eject them all from their seats--literally and quite violently, exactly the way pilots are forced to evacuate a crashing aircraft--to unburden my visual as well as my auditory senses.
It is not always the patrons who misbehave. Other seasonal inconveniences and, unfortunately more common occurrences, included getting--at the last, flaming minute--three ballots for shows that were each only running two weekends. So, to fit them all in to the crowded calendar, you rush to call the box offices for reservations and there mustn't ever be a human being manning the phones, but each message tells you what information to leave after the beep—and that that will be your confirmation, unless they call you to say otherwise. (But then, the night of the show, how many times did I get to the ticket counter and hear that they "did not have" my reservation?)
The judge's ballots themselves are good for a giggle:

one theater listed every single person who had crossed the stage, lit or unlit, in speaking and non-speaking roles under BEST SUPPORTING ACTOR/ACTRESS. Now, ATAC has written down, in essence defined, exactly what qualifies for LEAD and SUPPORTING roles, detailing how many lines, songs (where applicable) & scenes one must be in to be considered for each category so there isn't to be this kind of guessing on the judge's part--or latitude on the theaters' but, I kid you not, the last mystery we saw had a girl pose as a dead body under a sheet and her name was on the ballot. To the other extreme, however, the last big drama we saw had no names under BEST SUPPORTING ACTOR or ACTRESS and that ensemble cast had delivered; those four men and four women each had played multiple & meaningful roles but they weren't mentioned. Only the LEAD actress was listed and then the director, costumer, etc.
The worst aspect of being a regular at many theaters, however, is that you must deal with the idiots who put on airs and expose their backsides, the pedantic blowhards who flock to these events, especially the arrogant Richard Burtons & Sarah Bernhardts who run the joints. I heard one manager boast, in an attempt to wax poetical on a pithy statement against inbreeding, "And, here's hoping the British Royals' eyes get further apart." As well as the college student who was reading aloud the information a dramaturge had posted on the wall to give the audience an accurate historical background for the play they were about to witness. Doofus sighed and "corrected" the copy. "Look at that! They used at and by; I think they mixed up their articles. And posit, that's not even a word. Who wrote this thing anyways?!" It all reminds me of the classic David Letterman interview with Meg Tilly who, in an effort to dash her reputation as a ditz, perhaps exhuming a Marilyn Monroe tactic: brushing up on vocabulary and memorizing abstruse facts to lessen insecurity about the shallowness of her appeal, said, "I know what that word means, Dave. I can be just as pendantic as you, you know." --When any true pedant worth her salt knows the following: it's farther not further (farther is a measure of distance, further pertains to depth & degree); a, and, and the are articles while at & by are prepositions; posit is a verb meaning to state or to position a viewpoint as such, and a pendant is what the White Sox win--or a necklace, a piece of jewelry worn around the neck.