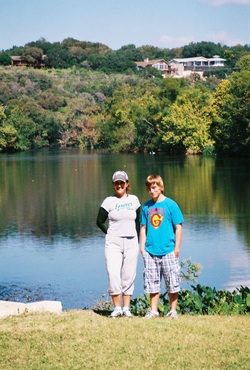 When people say, "I grew up in the 90s" what does that mean exactly? Do you get to claim the whole decade or how many years is fair to appropriate? (My parents were babies in the 60s and my mother claims she "grew up in the 70s.") Does the category stretch as far as into your early twenties when you were really coming into your own or does it only encompass college--or merely the high school years? Regardless, I think it should be a universally-established segment and time frame as one's sense of feeling oneself sprouting is extremely relative—is any variable more diverse? Can't we all name a few late forty-somethings who still want to be the target audience for the bar demographic? Those who refuse to grow up in any measurable way, clinging instead to that grey area after college but before a decision must be made and a job chosen? A good chunk who would comfortably inhabit this foggy valley forever, if only there weren't so many behind them, the next generation (and even the next) pushing in because it's their turn to swelter there on the berm of the speed zone?
Spring is quickly baking up into summer whether I like it or not, and whether I am ready to deal with the realities of it or not three friends are having babies this week and I just found out today another one is pregnant. One is in her late thirties and the youngest is 29 (and just graduated from college and got engaged), but each is older than I was when I had Seamus. I watch them and share their joy, while knowing that, if life were a giant track, my journey puts me laps ahead of these events—and I'm glad to be where I am:

I do not want to change another diaper or to lose a night's sleep due to teething until my son (and his future wife, whomever she may be) gives me grand-ones (many, many--did I say many?-- moons down the road).
We all will wake one day a little unsure of our footing, maybe even hating where we find ourselves. Still, flat tire or not, eventually we must catch our breath and roll on out of the neutral zone and back on that highway—and go in some direction, for some reason—cruising at a minimum of 40 MPH but, beyond that, at whatever rate of speed we feel capable of traveling, but we must get going. Just move! You can make a life or you can make excuses.
Fear of making a mistake slows some, while others fly face first into error after error, but they learn, dust off and rocket on into the next thing—and I say, Cool for them. For not being so paralyzed to do something wrong that they end up doing nothing at all, which is the biggest mistake anyone could make because there is nothing worse than making no moves, no decisions. And staying safe is the surest way to stagnate.
Others are arrogant:

I don't see myself doing that, and then, really, what ISN'T below them? Having an exaggerated perception of oneself is the tiniest prison cell of all, and yet the world is full of those who fall into this category. Sitting around waiting to be discovered, made CEO of Something, or for their application for Independently Wealthy Just Because to be approved. This isn't going to cut it or to pan out—not ever, folks. Dig a ditch, flip a burger, clean a toilet, jerk a soda—and keep quiet about it. Menial labor doesn't qualify you as a candidate for sainthood, it just makes you human so do it, save up, shut up, and move ON. Which means FORWARD. After all, there is more dignity in work than in vagrancy—a crime you commit when you take up space day after day, year after year at the coffee shop, wallowing in your own potential greatness. Plus, you only get a vote (which in your case gives you the right to criticize) when you have earned a paycheck.
I am at that bend in the road where parents enter "empty nester" territory: my son will be a high school senior next year so it is time for me to see where I fit back into the scheme of things. I need to find myself again, to uncover where I have tucked away the rest of my aspirations. But, as I help my son craft a bridge across what he feels his strengths and abilities are to how he can best use them in the world and, in talking with him about choosing a direction to begin that process of plugging in, I prepare myself to recede from his vision (and importance in his life) to become the increasingly-smaller woman who is smiling and waving goodbye in the rearview mirror.