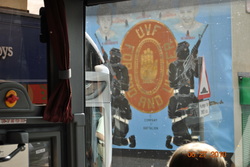 There are so many things in modern society within the present culture that I do not pretend to understand but apparently Osama bin Laden, the "mastermind" behind the 911 killings was, after a decade, hunted down and killed today. Maybe I have no appetite for vengeance of this magnitude or I see no gain in killing the one, even if he is a ringleader, when he obviously had a million invisible heads and arms behind him to enact his fanaticism or it couldn't have happened because-- as is always true with gang warfare--the other side will not convert to reason, or a set of less oppressive political beliefs or now adopt peaceful ways; no, now, doubly wounded they'll just plan a more vicious retaliation. Yet, as with any bully, one can always hope that today is the day he was finally silenced.
The reactions expressed by the average Joes and Janes online was astounding. I read everything from "What a brilliant piece of badassery on the part of our Navy Seals" to (surprise, surprise) another college freshman newly won-over to atheism who used the glee with which people were responding to the strategic assassination of a mass murderer as an additional rationale, further proof of the "righteousness" in his conviction to denounce Christian principles (i.e. "they say they are Christians but then look how happy they are that someone's dead").

Every faction that looks at this takes a different spin on it. But are they all accurate, and can every perspective be justified?
Perhaps the aspect I least understand and find most distasteful is that of the accident gazer who gets her bread out and takes a dip, some brewing the mess into a kind of sauce and others using it as a roux for their crazy gravy.

I am fed up with the politics ON BOTH SIDES, sick to death of the Republicans who set up camp against the opposition before he is in office as if the man could ever do something that won't annoy them (because, Lord knows, his actions will never please them).

As in this case, how many people did I read today who posted on FB:

"Thank you, President Bush." What? Did I get off the elevator on the wrong floor or crack my head against the wall, trying to get out of bed on the wrong side? Opponents' arsenals seem bottomless and the "friendly fire" endless, and this nonstop bitching back and forth makes me want to rip off my ears so I don't have to hear it anymore. I don't care what side you are on: with everyone shouting at once, we have passed the point of any of this being parlayed into something beneficial for the whole; each grievance is now merely mindnumbing noise pollution.
I don't trust either side and I know too much about human nature and the fickleness of popular opinion to believe that any extreme platform is going to work. –And, not that this bonfire needs one more stick in it but I am not convinced this wasn't an executive move to win some favor, after a weak run at the Whitehouse and with all of this, "show us your papers, Negro" business not quelling the divisive factions that no reasonable effort WILL subdue.

. . Is the idea of propaganda so far removed from our consciousness that every factoid can be removed from its actual context and squeezed to fit into the puzzle of our own philosophies? And, are political supporters identical to those stupid athletes who keep reliving the same lost game over and over in their heads, refusing to believe that the rest of us have more than moved on?

Does every angry voice and disappointment deserve a soapbox, let alone an audience? –And, I know we are a "tolerant" nation where voices are "free" to spout off, but I also still have the final say, the veto of the channel changer, the OFF button for my computer and the radio. Talking can help vent but when it disintegrates and you don't see many open minds just open mouths, each blathering his own dogma then we have achieved the maximum density of futility.
I found two friends--yes, who were both Christians--were able to transcend the fray and to contribute universal words of encouragement, the first quoted Gandhi:
"When I despair, I remember that all through history, the way of truth and love has always won. There have been tyrants and murderers, and for a time they seem invincible, but in the end, they always fall. Think of it, always."
The second remark was personal but it is a tact I agree with moreso than Mahatma's sentiment: "

I choose to thank God for the blessings of grace given to the world. . . I will not "cheer" for the death of a soul, however, God's justice seems to have been served here" (sic).