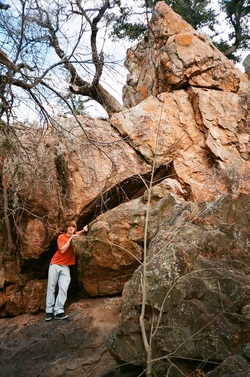 What is the toughest thing you have endured? And, how long did you persevere under that extreme hardship? Although it has become a dismissive bit—almost a cultural joke, how the coyote chews off its own paw to escape a trap—do you possess the strength it takes to be that coyote? Just what would you do in order to survive? Sometimes I walk away with big themes from small messages. . .
Wednesday night my family and I sat down and watched the current release, 127 Hours, and at the end when the trapped man stumbled out of captivity, bleeding and dehydrated, into sunlight (not to mention the providence of immediately encountering several hikers who all had juiced-up phones and cool water), I balled my eyes out. Actor James Franco, in the one-man forum, really did captivate in this difficult but important story based on a real climber's 2003 misadventure. While it is a daunting challenge for any actor to carry, completely, a film on the force of his charisma, the lead demanded our attention and my interest never flagged in this drama, not even as our protagonist lost mobility and consciousness.
I am not a fan of pain so I get ill watching people tortured or imprisoned (think Salt, V for Vendetta, Closet Land, and almost anything with Cuba Gooding, Jr. in it recently), and so when my regularly-scheduled karaoke fix got cancelled Wednesday I squirmed and had a hard time enduring that canyoneer's endurance, watching him wait and struggle, plan and improvise. (Why couldn't the director just send paramedics, already? Such is my stance in reality.)
I won't go into more detail and ruin the story for you if you haven't rented it yet, but this rather straightforward film has it all: stamina, courage, stupidity, genius, hope, joy—and although we don't see much of the canyoneer's life after he extricates himself at great personal sacrifice, we can safely anticipate the spiritual changes he has made. As his exterior self cracked we glimpsed the beginning of an interior life, as if something eternal had connected, born from the shell.
True stories like this have the desired effect:

they inspire me. They make me appreciate my body and its abilities, but they remind me even more of the unfathomable tenacity of the mind and the soul's inexplicable buoyancy, a platform to sustain the weaker flesh. Unfortunately, perhaps, I am never deluded enough to imagine myself as strong or as brave as the central characters in these conflicts but I so desire to be that resilient. I need models. I need lots and lots of reminders. I need pictures and I need maps.--I need help.
Another more residual effect the film 127 Hours had on me was that it increased my awareness of the power and the importance of communication, not just of letting others know where you are or will be for survival but to include others in your plans and thought processes as a way to let those you are intimate with inside—and sometimes, yes, merely out of common courtesy. (My tendency is to be just as dedicated to independence and autonomy as Franco's character; I often feel "put out" by the thought of having to "answer" to anyone.)
While the world avoided another nonpocalypse just yesterday (Saturday, May 21, 2012 at 6:00 p.m.), this character's light would have gone out for good had he not completed the one action that would save his life.
I hope always to remain free and to live to a ripe, old age, taking all of my limbs with me when I go, but I also want to keep these lessons fresh and alive in my heart so I do not need such difficulties to slap me awake and to remind me of just how good I got it! Amen, and Rock On, James Franco.