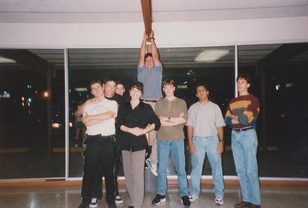 me (female), Daniel (RT of center)
Dear Daniel,
Oh, sir, at only the tip of four-months-old, what a year 2011's been, internationally.

Egypt and now Libya, while Japan's situation worsens since the earthquake that set a ravenous tsunami in motion damaged several nuclear power plants that then released (more) radiation into Japan's soil, water, air.

(The atomic blasts of Hiroshima & Nagasaki were a mere 60 years ago, which is nothing to the shelflife of radioactivity).

The waiting world then freaks when sensors detect radiation at airports, and now we are worried about our milk and our meat. . .
Today, I don't want to talk about the world, not even the universe of books--or bookishness (although I am intellectually & artistically starved out here in the sticks where life is about work, watering your lawn, and playing mahjong—if you have any friends).

It is spring, Daniel.

Spring! and although I went nowhere, again, for break I refuse to feel sorry for myself.

The seasonal hiatus hit this year, as it does every, and all my married friends were GONE, only my single & broke artist friends stayed, celebrating the equinox by taking turns drinking too much at cocktail parties, downing bizarre liqueurs to feel like they had transcended their norms.

No, there were no parties we attended, nor did we ski, visit (nor host) out-of-town relatives, or sun ourselves on a tropical beach, but I wasn't to dwell on this, was I?

--

Just tell me, am I adding too many items to the list of Things To Do In My Next Life?

Holler when I have maxed it out and hit the limit.
Take a deep breath with me, Daniel, from your blogs I can see that you need it too.

–How's that going by the way?

You have written much more than your first reported attempt at blogging (did you say you'd managed to post twice?); now, in your stride, you write regularly, almost daily.

My blog is toddling along at nine-months-old and most of the teething pain's gone, but it is an interesting phenomenon, exactly like when I was pregnant:

BLOGGING IS CONTAGIOUS and, apparently, everyone wants one (but no one wants to be responsible for reading anyone else's).

Since I have birthed my blog five friends have started one, but only you have truly stayed in the game and stuck with it--and raising a blog as a single man isn't easy!

(I figure I either make it look simple or it's one of those my gun's bigger than your gun moves, as in if she can do it, anyone can.)

The custodial blogger

doesn't get many nights off and I tire of changing its dirty diapers but writing is a labor of love and you survive the long hours because passion is its own fuel.

As far as productivity, I am growing just as fast, if not faster than the blog, and I have learned a lot about what not to do and I've been forced into greater flexibility.
And, speaking of babies, spring has definitely sprung.

--I had a morning dove lay a nest in my hanging cactus and I don't know who was more scared when I went to open the garage and we met, human eye to bird eye:

I screamed as she flew away, taking a path that aligned with my face.

So beware of low-flying birds, but are you watching the world re-leaf itself?

The trees are already in full blossom and dripping pollen everywhere and I've counted three kinds of wildflower along the untended beds and roadsides, and who, Daniel, can resist smiling at the black birds that bathe in a street puddle?
At the park I saw two girls beside themselves with joy, like their energy was punching its way out of their skin coats.

They giggled and chased each other in tight circles, then jumped up and down from boulders until I was dizzy and out of breath from watching them.

They may have been there to take pictures (so I am sure their mother didn't appreciate the hyperactivity, their getting sweaty and mussing up their hairdos) because one of them had on a silvery shirt that reminded me of woven tinsel and the sunshine just danced through it with a dazzling brilliance.

She was a glittering dervish, a whirling human wind chime—the supreme image of springtime.
I am going to try to dig up an old picture of me and you in my creative writing group from Shaw.

You guys, the crème de la crème, were the most outstandingly talented group I have ever had the pleasure to sheepdog along, and you kind of ruined me for the classes to follow because not one had both the fun spirit as well as the brainy fervor that each of you brought to that marketplace of ideas.

I need you to remember that, brother, and to hold onto those dreams as shiningly real and as screamingly loud as they were when you first revealed them.

(And, in that, I hear the trueness of the line from Proverbs, Let your fountain be blessed and rejoice in the bride of your youth.)
P.S.

Is Thomas Pynchon's Vineland worth the read?

I found the hardcover at the Kerrville library on the SALE rack.

–Poor famous author, remanded to the refuse bin, but how bad of a purchase could it be for $1.50 used?