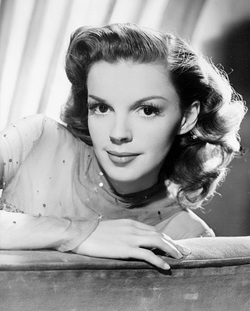 I guess I was as enamored with the film The Wizard of Oz as the next child and, Lord knows, I was spooked to death by the apple-throwing trees, the flying monkeys, the green witch's evil guards, the Wicked Witch herself, as well as The Great Oz (pretty much half the cast). But I became more engrossed with the half-black & white, half-color film as I got older and learned some of the history behind the film, frightening backstage details that lent the movie a stranger aura, tidbits like the fact that it took eight to ten hours to fully makeup the tin man but there was lead or another toxin in the aluminum tint of his grease paint that gave him a severe allergic reaction, and that Buddy Ebsen was originally slotted to play one of Dorothy's sidekicks, a casting decision that almost does not register since these actors made the parts their own—and then retired their jerseys into the theatrical hall-of-fame's gym floor.
Judy Garland, the sixteen-year-old actress playing a twelve-year-old girl (and so had her breasts taped down and her nostrils flared with cotton—OUCH!), always looked a little lost and scared herself so I wasn't interested in being her or in picking up where she'd left off but I did want those ruby slippers and I wanted, one day, to elevate an audience with a song as she had for eternity with Somewhere Over the Rainbow (I still can't watch that scene without crying).
Although Judy Garland's personal life was a shambles

(the actress died of liver cancer at 47), the 1939 film became an instant classic—but not because it kept the author, L. Frank Baum's vision as a political outcry for bankrupt farmers trying to get the help and attention from Washington (i.e. The Emerald City).

No, just like Jonathan Swift's political satire, Gulliver's Travels, the story became one safely ensconced in fantasy and dubbed a children's book.

No matter how you interpret it, however, The Wizard of Oz has an intriguing plot with archetypal characters we can all relate to, a story that continues to speak to new generations in timeless fashion, but what do you make of the plethora of OZ spin-offs?
To date, I can name five big-shows that basically rehash the exact storyline:

The Wiz (the famous Diana Ross, Michael Jackson musical with "Ease on Down the Road"), The Dark Side of the Rainbow, Wicked, Surrender Dorothy (a Drew Barrymore production that is still in the wings), and The Twisted World of Oz.

And, what's more tiresome, perhaps, is here on the live San Antonio theatre scene three OZ shows have been produced this year.

(Most theater companies only put forth four shows a season so that's a lot of overdone Oz-mania, if you ask me.)
As an Alamo Theatre Arts Council (ATAC) drama judge I saw The Dark Side of the Rainbow last month.

The Rose Theatre staged it—and if you have never heard of it, let me paint you a picture: it is Oz on Tom Wolfe's Electric Kool-Aid Acid Test while Pink Floyd's album, Darkside of the Moon, plays as backdrop. Yeah, with incense burning in the scene with the poppies and all, it was a pretty hipped-out rendition--but I wasn't high when I saw it, although there was a drunken idiot in the audience who made such a prolonged racket digging into his grocery bag for another round of bottled beers for his row that I almost threw my shoe at him to make him hush.

No, unlike THAT guy, I wasn't soused and so perhaps some of the psychedelic lighting (made of red pen & green Christmas lights in contrasting concentric patterns that almost made my friend nauseous) was "wasted" on me.
Overall, the small-budget production suffered from technical difficulties and it was too darkly staged so much of the action and the facial features of the actors was lost, as was a frustrating amount of dialogue when Pink Floyd washed out their unmiked voices.

The Lion was good and the Witch (portrayed by none other than Jesse Rose herself, the theater's namesake) was even better, but Dorothy's dog, no kidding, stole the show.

He made all of his cues and was the cutest, best-trained Yorkie you would ever want to steal so, maybe, playing some of the rock band, Toto, instead of Pink Floyd (who admittedly only ever reminds me of my older, druggie cousin) might have saved the day.