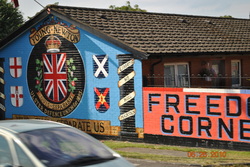 During a week filled with the buzz of the impending wedding ceremony of a British Royal, the timbre of the news takes a more sinister tone.

I turned on the TV to see that today marks the 25th anniversary of Chernobyl in Ukraine, one of the worst meltdowns of a nuclear reactor since so many countries went for the cheap, "clean" option of an atomic power source. (Three Mile Island near Hershey, Pennsylvania had the first in 1979, and now Japan, troubled island that she is, currently has two that are breached and leaking.)
Although anniversaries are usually defined as positive celebrations of private accomplishments or personal benchmarks, when a nation discusses the pivotal events from an era anniversaries are usually bleak, remembering famous leaders and cultural icons we have followed and watched with mixed emotions, but their sudden passing does tend to jar us awake from a sleeper's walk. These kinds of anniversaries often revolve around cataclysms, federal, global or universal happenings. The final types of dark anniversaries are personal—which are as memorable, if not more indelible, they just are not commonly felt with the simultaneity of a president's attempted assassination or a princess' tragic car crash (Grace Kelly of Monoco, and Princess Diana—although Diana's death overshadowed Mother Theresa's). Moments which make me feel oddly like the Aspen, the species of tree that is really one organism with roots invisibly connecting one with all others underneath the earth's surface.
The break-up of The Supremes, Charles Manson's Helter Skelter, Idi Amin's cannibalism, Vietnam, the Korean War, and the assassinations of John F. and Bobby Kennedy, Martin Luther King Jr. and Malcolm X were before my time, but near enough that I felt the ripples of the nation's grief. I missed the Apollo moon landing but I was there when Tang, the space-aged reconstituted orange drink, was unleashed on the world and my tastebuds are still recoiling. Vaguely, I can recall a Pope, Gerald Ford and Ronald Reagan getting shot at, as well as words like the Sandinistas and escalated conflicts in El Salvador and Bosnia Herzegovina. I've seen countries change their names and oust despotic leaders, and I was in absolute shock when I learned that apartheid was still a living, breathing beast. But, in my lifetime (and for better or for worse), I have also seen Nelson Mandela freed and I saw America elect its first non-WASP leader of the highest order, after a centuries' long parade of pasty males.
Of all the Blackouts, earthquakes, hurricanes, tornadoes, floods and fires I have heard about only Katrina and Rita still ring in my ear, not because of Mother Nature's destruction but because of the human indignities reported, the stories of looting, rape, murder and robbery, the sick aftermath of opportunists who took advantage of the devastation to worsen the situation for all. I felt those tragedies the most because I had lived in New Orleans and really treasured the town. I taught a lot of those kids who had been displaced after the mass evacuation and I participated in a concert to raise money for relief for those victims; we also collected toiletries, blankets, clothes, and first aid items to send to them. . .Getting involved in rescue efforts made me connect more intimately with the situation.
If I were to die today, however, the two events I most remember are the OJ Simpson murder trial and the events of 911. I recall that highly-televised gruesome double homicide most because I was a new teacher and a new mother, home on summer vacation spoonfeeding my infant son in his bouncy seat on June 12, 1994 when I turned on the TV to watch FOR HOURS the California police low-speed chase a white Bronco down the freeway to the cemetery.

I remember it because it was on every single channel and I couldn't believe I had brought a child into this twisted world; it filled me with a sudden inventory of the things in the fairytale kingdom that might befall him, the first of many spinning wheels to present itself as a threat. As the trial finally got underway, I saw that my high school students were racially split over OJ's guilt or innocence.

To me, when you factored in history, motive & opportunity, it seemed a clear cut case of domestic violence gone berserk:

OJ was an ex-athlete who hadn't made a B-movie in years and he had sent his estranged wife, Nicole, to the emergency room on many previous occasions.

Who could view the brutal stabbings of Nicole and her new boyfriend, Ron, and not see it as a rage killing, the vengeance of a spurned lover?

But the lawyers played the Race Card "from the bottom of the deck" and it worked; OJ Simpson walked free. When the verdict came down that day every TV set in every classroom was on in New Orleans and

students went flying out the doors, spilling into the courtyard, some ecstatic that "justice had been done" while others fumed at the poisoned judicial system. It was like being an extra in the courtroom drama, 12 Angry Men.
It is worth noting, however, that, years later, at the funeral of Johnnie Cochran, OJ's head lawyer, Johnnie's family did cartwheels & backbends to expunge from popular culture's memory, if not public record, the memory of his part in that infamous trial. Now, why--with the case that had made him famous (it's the only reason I know his name to this day)--would that be Cochran's final word and his family's parting wish?