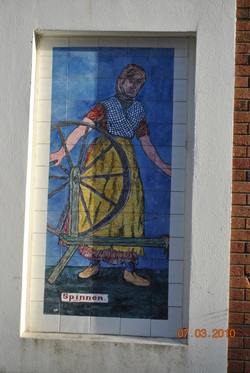 Passing through the politically-torn parts of Northern Ireland, the infamous fourth county that Michael Collins lost as part of the 1920s treaty with Britain (a decision that led to Civil War, which was fueled by soon-to-be Irish President Eamon DeValera who had forced Collins to represent the country only to betray him, knowing the treaty would be an unpopular stalemate), we moved rapidly to coastal towns to the west of the country.
Of the two summer weeks we spent in Ireland—seeing countless beautiful structures & vistas I struggle to hold on to or recall in detail and cramming so much history into our waking hours that I have not retained much —one of the sites I remember most was a mall in Waterford.
A mall, you say?

What is so special about a mall?

I am NO shopper but the complex

was monstrous and so, easy to remember, but the mall was brand new.

Archaeologists, like in most ancient countries, are constantly seeking the location of suspected buried cities and cultures and, during construction, many companies use ultrasound to get a clue as to what is beneath the surface of the area they are to excavate. Imagine their chagrin when it was the most ancient and complete Viking settlement that had ever been unearthed, a "virtually intact town that may be Ireland's equivalent to Pompeii."

Archeologists believe the Scandinavian trade center was founded in 860; 6,000 artifacts were preserved, the majority of which are 1,200 years old.

Some 4,000 people may have lived there with 120 Viking ships anchored at shore.
Experts took pictures and studied the miraculous find only to bury it entirely again in 8-11 days because things were already starting to crumble.

Paradoxically, the only way they could keep it from turning to dust was to cover it back up with dirt, forcing out the air that ages and oxidizes.

The mall, then, acts as a tombstone on top of the Viking trade center which seems appropriate, financial frosting for a commerce cake.

History is commemorated in paintings of some of the tradesfolk who may have made a living and traveled there to sell their wares eons ago:

the spinner, turf carrier, fish crier, glassblower, and the potter.

(I am drawn, especially, to the spinner, as I think it is what I would have done then and maybe it is what I am now, if only a spinner of tales not straw.)
What a hard lesson is this? When our guide told us of the find/excavation, I breathlessly wanted to go inside—in fact, to pay any price to see it, and then when he cancelled that image with his next sentence about the reburial, I was astounded and a bit in denial about the tragic reality.

Wasn't there some way?

and Couldn't there have been an international effort to contribute to. . .and on and on because I refused to believe it had to be the case. (It was a familiar history lesson, no less: Britain didn't want to lose Ireland, like Ireland didn't want to forsake its Scandinavian roots. But whose culture do you preserve, and why? Which tradition/heritage is more worthy of perpetuating--is it the past, merely because it is older, perhaps forgotten?)
But I can trace the same hard lesson buried in my own personal past, accompanied by the same degree of denial.

I guess I really do want to save everything and to find a way to take care of it all—every person and every special find I have encountered, but there is no more room in my house, or on my counters, in my closets, in my brain or even in my heart to sustain all those lost loves, episodes, and variant paths because some of those are the ruins that my present "city" has been built over or the life that I am living, the road that I am on wouldn't exist. I think this is part of the substantial meaning within Robert Frost's poem, "The Road Not Taken":
Two roads diverged in a yellow wood/ And sorry I could not travel both
And be one traveler, long I stood/ And looked down one as far as I could
To where it bent in the undergrowth./ Then took the other. . .and that has made all the difference
You simply cannot hold onto everything--and do any of it justice.

Some choices are bought at the expense of others.