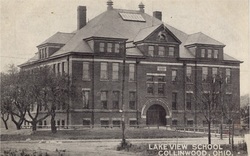 Growing up in Cleveland my six brothers and sisters and I lived on our bikes in the summertime, the best season in Ohio next to fall's colorful spectrum.

We rode around town until our legs almost fell off and our only limitation seemed to be hunger, which we staved off by returning home to grab a bite (or we'd merely bike up to Euclid Race for a 25 cent ice cream cone, sometimes wolfing down one flavor and ordering another before pedaling away).

And it was on one of those childhood excursions that part of my innocence died; I had stopped to tie my shoe when I noted the plaque erected in front of Memorial School in a section of Cleveland called Collinwood, which made national news during the late 1960s race riots; Collinwood was also home to Danny Green, the infamous Irish gangster (who also happened to be a friend of my mother's oldest brother and Danny had even dropped my mom off at school from time to time back in the day).

In the memorial garden where I straddled my bike, 172 students, two teachers and a rescue worker had been "burned beyond recognition and buried in a mass grave."

An avid reader, I had learned about that tragedy without realizing that it had happened, here, in my hometown to children my age or younger.

It was one of the very first moments when I felt conscious of the fact that I was alive and well.
Historically referred to as the "deadliest disaster of its type in the United States," the Lake View School fire occurred on that exact spot on Ash Wednesday, March 4, 1908—three years before the tragic Triangle Shirtwaist factory caught fire in New York (100 years ago today, March 25, 1911), claiming the lives of 146 women, mostly Jewish & Italian immigrants. Panic in the stairwell vestibules did lead to the crush of a large number of students at Lake View School, but the extreme death toll did not transpire because the school's doors were designed to open inward, a common misperception.

The lethal blaze started when one of the wooden joists in the four-story complex got overheated by a steam pipe, and the fire was so devastating because there were no fire doors and the stairwell "acted like a chimney, helping to spread the fire quickly" and "oiled wooden hall and classroom floors also fueled the fire."

Many died from smoke inhalation, as well as from the fire itself, and eyewitnesses from the community say they watched as some victims jumped to their deaths from the second- and third-story windows.
Another school, poignantly name Memorial Elementary, was built with new safety features adjacent to the location where the Lake View School had burned down, just as New York University classrooms and labs are built over the site where the Triangle Shirtwaist factory used to stand.

Although tragedies are not contests, the Triangle Shirtwaist factory was perhaps more tragic still because no unions or child labor laws existed and many workers were only 14-years-old; plus, the building had ten floors, and the firefighters' ladders only reached to the sixth floor.

The Triangle Shirtwaist factory also had the peculiar statistic of turning to cinder in 18 minutes flat. . .
In addition to the staggering loss of women's and children's lives, these two tragedies do share many positive contributions, as each became the landmark case that spurred change in the construction of buildings (including steel-framing & panic bar latches on doors) and they established over 20 laws aimed at improving safety, practices that are pervasive today, elements that we take for granted and maybe even occasionally grumble about or are put out by like rules on room capacity and the mandating of regular fire drills in schools and workplaces.
Today, since I cannot join the demonstrators or the 100,000 mourners who will convene in a funeral procession in New York to commemorate this tragic anniversary, I am going to get off of this computer and take a bike ride for all of those children and young women who cannot, for those whose lives were cut short by the crude conditions of their time, and I will be grateful, counting myself blessed, that my son attends a school that complies with safety regulations, thereby saving his life and giving me one less thing to worry about. . .