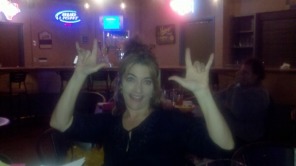 Pic from Nick's camera-phone. No likey.
Sometimes people utter ignorant things.

Steve and I dinnered with new friends awhile back, meeting at a restaurant that had popped up in a location that just seems cursed:

this is the fifth establishment to open its doors in that log cabin locale since we moved to Schertz in 2001.

Anyways, Steve wasn't at the top of his game, either, talking about the last time we had been in that same building (under different ownership then) and he had had to add, "for Rita's fortieth birthday."

(I had pinched his leg under the table when he'd spewed that because it took me back to that date when my old friend, Jim, had approached Steve after because Steve had proudly proclaimed the delicate info then too.

"I love you, and Rita may love you, but I'm telling you.

If you ever stood up before a crowd of people at my birthday party and told everyone my age, I would cut you. I'm just saying. . .")
"Fortieth?!" the ignoramus at the other end of the table exclaimed incredulously, "What was that?

Like ten years ago."
Luckily, there is no stamp on my forehead that says FRAGILE, and I take good care of my appearance so I just ignored the tactless gentleman with the sixth-grade sense of humor, especially since his chubby wife feels threatened by me; I figured I'd let her "win one" at my expense.

(Three of the four times we have been with this couple at events she has made bizarre comments like, "Look out for Rita; she's here to steal our husbands.")

In the end, I was just relieved that it wasn't my spouse who had made the social gaffe of the evening, bringing the conversation to a stop so immediate we should all have had pulled muscles in our necks.
If that isn't appropriate behavior, let alone the best road to making friends, then consider the sweetness of my karaoke buds who went out of their way to surprise me for my birthday this year.

Anthony got a cupcake cake (half vanilla cupcakes, half chocolate to accommodate everyone) with a question mark candle for the age, and he gave me a fake microphone headset to wear, as well as a gaudy flashing HAPPY BIRTHDAY GIRL pin.

And, I tease him because he took a million pictures—as he likes to do at various singing (and in my case, acting) gigs—but I never see them or get copies, although Juan & Maria, other club mainstays, say he burns them picture CDs all the time. . .
My silly friends sang to me and bought my drinks.

Anthony gave me a coupon for karaoke tunes I could redeem online, and another stuffed a gift certificate for food & drink at the club in my card.

My friend, Nick, a big fella in his sixties who sings crooners from the fifties & sixties and who has recently relocated to Vegas to pursue singing, gave me a bottle of vino from his brother's now-defunct vineyard in California.

It all made me feel special and remembered in such a unique way.
From the retired army captain with the awful toupee (it never matters what he sings because every song sounds the same) to the heavyset woman who brings her daughter and they make duets of songs like Connie Francis', "Where the Boys Are (Someone Waits For Me)," I am sure, without asking, that each has a passion for music, especially the songs he sings most frequently, and maybe she secretly toyed with the idea of making a go at the music industry—but never did.

I had read somewhere that ladies keep the hairdo from the era that they felt was their prime (and it certainly holds true for my mom, who still works her platinum locks into some form of a tamed beehive).

Maybe that's what these folks do with their songs, surrounding themselves with audio memories of favorite summers or hits from tapes they played the loudest while strolling around in their first automobiles—as I could most certainly tell you the ballad that was playing in the car the night I received my first, adult kiss (but I won't divulge any more on the topic because that is private, and it is not lost on me that some details are personal and not meant for public consumption).
I don't know what the impetus is for every soul in the room, but I do know that for those three hours a week that we convene there we search for a kind of oasis, a safe place where time stands still and we feel comfortable reminiscing, immersing ourselves, again, in the water of lyrics & melodies that we love the best, ones that perhaps transport us to a better time.