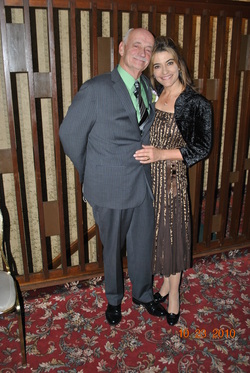 "Hi, Nana.

Fine, how are you?"

Seamus hurries into the phone, calling Cleveland as soon as he gets home from school to rib my dad.

"Could I please speak to Papa Bill?"

Seamus smiles in anticipation, holding up one finger to alert me that my dad is on his way to the phone.

Seamus and I are both stifling laughter.
"Hey, Papa.

It's Seamus.

Just wanted to call and wish you a Happy Soldiers' Day. . ." and I can hear my father's guffaw through the receiver. The last few years my son and I have actually gotten the drop on my father, who had moved on to tease Seamus with the holiday after I had, finally, caught on. It has become one of our silliest but treasured family traditions.
Although he is laughing in a kitchen that is 1,700 miles away I can picture my father's face.

When he laughs, a prominent vein in his forehead pops out even further.

Hearing his laughter is contagious.

It's one of my favorite things, and it is almost as funny as is SEEING him laugh.

Mind you, I left home at 19 and have lived on my own since, most of the time in other states; usually never close enough to drive home for a quick weekend visit.
So, I do not see my parents often, but one of my strongest memories of my dad is his sense of humor, which spans from the sarcastically dry to the juvenile (just ask my mother;-).

One of his longest standing jokes was the celebration of Soldiers' Day.

He got me with it every single year that I was a child in his house.

I would try to remember it from one year to the next, but corny as it was he managed, somehow, to catch me with it.

Every.

Single.

Year.

The presentation never varied.

It went something like this:
"Hey, Rita.

Did you have a good day at school?"
"Yeah, sure," I'd say, dropping my bookbag on the living room chair where I would sit after dinner to do my homework.

"I guess so.

Why?"
"Did you guys have a party in any of your classes?

A cake or anything?"
"No, why?"

I'd say, looking for an afterschool, pre-dinner snack in the kitchen.

(How else did I maintain that chunky physique?)
"You didn't have any presentations?

Like a short film or a guest speaker?"
"No," I said, furrowing my brow and getting flustered.

"Should I have?"
"Did you do any arts & crafts, maybe?

Like make a flag or something special?"

his smile is starting to burst at this point, as he knows the end is near.
"No!"

I said, throwing myself down on the couch, scanning my brain and waiting for the incident to click.

I was usually pretty good with dates, if not numbers or math.

"What is going on?"
"Don't you remember?"

he says, his eyes tearing because he is laughing so hard.

He can barely get the words out.
"Tell me!"

I say, exasperated, although I am laughing too now.

I push his shoulder impatiently, and a second wave of laughter overtakes him.

"WHAT is it?

What is so special about today?"
"It's Soldiers' Day," he smirks.
"Soldiers' Day?"

I ask, trying to remember the dates that correspond with Memorial Day, Labor Day, even V-Day.
"Yes, it's March 4th."
"Yeah, I know.

I've been writing it at the top of my school papers all day long.

So?"
"So, it's SOLDIERS' Day.

The day that all soldiers march forth. . ."
"That is soo stupid, Dad.

Really."

I'd laugh, telling myself that, no matter what, I wouldn't let him get me again next year.