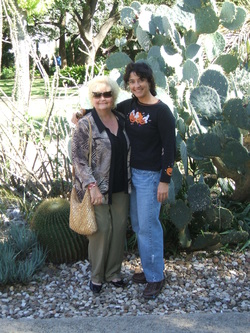 When I went into labor prematurely, my mother piled my father and an armload of baby gifts (including a crib one of my sisters had donated) into a rental car and began the long ride from Ohio to New Orleans.

I was a graduate student on welfare (who was choosing the difficult road of single motherhood over a bad marriage) and my mother doesn't fly but she knew I was in a less-than-supportive situation and she did what she had to do to get to me in one of my most distressing hours.

She came, shopped, cooked and cleaned for me, freezing extra meals for later, when she would have to leave. She showed me how to bathe an infant and reviewed the basics of burping & diaper changing that I had suddenly blanked out on, after having been a babysitter since I was ten. My dad fixed the sagging bedroom door, built me a clothes rack, and even scrubbed the big people's tub.

My mother is a complicated woman and our relationship, complex—but I can honestly say she has been at my side in an indispensable way when I have been at the barrel-bottom of a crisis.
So on the day of her birth I recall my most cherished memories of MaDonna Jean in a snapshot sort of way, envisioning my mom at sixteen in a strapless gown, a final contestant in a local beauty pageant.

I loved, too, to hear her tell the story of the sunny afternoon that she was rollerskating on the sidewalk at twelve-years-old when she had first started noticing boys; she had turned around to see if she had impressed the boy she had just rolled past when she banged into a STOP sign, her legs more or less wrapped around the pole.

And, I felt nothing but compassion for her when she had started working, setting aside some money every paycheck to buy herself a wardrobe, a feat my Nana Sophia had put an end to in a matter of minutes with a pair of scissors, cutting each of my mother's 1950s cashmere sweaters in half when my mother refused to come in when her mother had called, staying instead to chat with a handsome young man.
Happy Birthday, Mom.

Here's to the beautiful young woman who married at 17 and had six children by the time she was twenty-six.

B

elow is a poem I wrote in graduate school about you:
Scent of Lilac
During August in Ohio
when algae is flourishing,
tap water tastes like corn.
Here,
where the Mississippi oozes through
the pipes, the water is never drinkable.
The summer after my parents went bankrupt
because the contractor drank away their dream
home, my father got a promotion.
Then, his company went on strike.
Now, considered the enemy,
he was holed inside the plant
behind a violent picket line.
For the month that my parents were separated,
my brothers, sisters and I--the six of us--slept
with our mother in our parents' bed,
fighting over whose turn it was.
Being on sacred ground, I wouldn't sleep
but lay still, eyes closed until
my mother's light snore assured me
she had fallen.
Her scent was lilac
from the bath, wet hair limp
across the pillow.
I held my breath
to make it last, wondering if she went
to him in dreams, and if there was rest
and money and happiness
wherever she had landed.