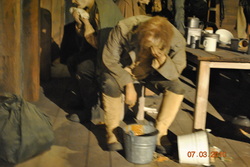 Of all the human-designed atrocities nothing is more terrifying than the Department of Motor Vehicles (only in Texas it's called the DPS:

the Department of Public Safety, which may conjure up worse imaginings yet).

Say those infamous initials and you are pretty much inciting a panic attack in the hearts of most Americans.
"You got this," I tell my son, although neither one of us believes that for a false second.

I take a seat in the cavernous waiting area and kind of shoo him off to brave the line because he needs to sharpen up his autonomy as much as he needs to be proficient at parallel parking.
As I watch him creep along in line, advancing at barely gaugeable inches, I try to regulate my breathing and to keep my heart rate down because, in case it has escaped your notice, I hate places like this (the expression, necessary evil comes to mind).

I hate them because they have been frustrating, sometimes futile paths for me in the past.

My first thought when I am lucky enough to be passing these kinds of buildings is, There but for the grace of God go I, and when I am not fortunate and am forced to enter it turns into a desperate prayer of, Oh, Dear God.

Not again!

It's like I am suffering from, not Road Rage but Regulatory Rage, an untracked branch of Post-Traumatic Stress Disorder brought on by bureaucracy because I have learned a great deal of failure from this place—from all governmental agencies which are notorious for epic waits that are rewarded with the unhelpful remarks from curt individuals behind the counter who seem to have died at their posts.

Spirits no longer inhabit their corpses only no one in a supervisory position has noticed, partly because none of the employees' loved ones have reported them as missing.

Talk about the Town That Care Forgot.

Those places wantonly bred hostility.
And, of the qualities I would like to impart to my son, my hatred, even paranoia of such agencies is not one of them—so I figure I am being more supportive by sitting as far away from him (and them) as I can, and keeping my exasperated sighs to myself.

Problem is, my son is already starting to build up his own defense.

He's inadvertently begun a mental file on this place because, for his temps, he struggled with the paper chase of getting in all the documents and signatures to meet deadlines that they required; he's been on the phone to them more times than I can count, but no one answers or he gets a busy signal; plus, he has failed his driving test ON THE SPOT once already.

(He came back so flustered from that fiasco then that I thought I had already lost him for good to their abyss.)

But here he was, back in the saddle, ready to try one more time and all I could do was stay away and hold my breath.

He wasn't the smoothest driver, on a good day, and when he drove I would slam my invisible air brake every time he made an unwise move or bolted forward; I just prayed that he would improve with time. . .
I had brought provisions to withstand the long-haul, a novel and my day planner, but I ended up feeling too distracted for either creative or organizational thinking so I studied the drawn faces around me and, no joke, the DMV or the DPS, whatever you want to call it, does not inspire confidence but it was a place of traumatic bonding.

I watched one girl lose it and fuss with the lady behind the counter, who shrugged and said, "Next."

The teen mumbled out loud before storming out the door and I wanted to yell after her, I feel you, sister.

I know your pain.

Instead, I admired the way the young man in front of me's vein popped in his neck when his friend came over to say, They have lost our file.

They forgot about us, Dude, skipped our number.

Then, to avoid being sucked into the drama, I read the posters on the wall, which were all mildly threatening like the slogan which promised, "If you're uncovered, you'll be discovered."
"I won't be able to renew my temporary," Seamus says, reappearing to drop into the seat next to me.

He is looking down and I am trying to read his face.
"You done already?"

I ask, trying to process and catch up to speed because (a) a century had not passed and (b) I had not seen him leave to test.
"It's because I GOT MY LICENSE!"

he said proudly, holding up the paper proof.

"They said they'll mail the permanent one to me."
"You did?

Great," I managed with an insulting degree of shock.

"Okay, then.

Super," I smiled, congratulating him, although for a parent I knew that one answered prayer begins the journey into the next level of concern.