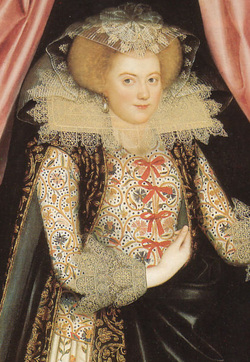 What is it about Renaissance festivals that attracts morbid obesity?

Is it the gluttonous image of King Henry VIII chowing down on a mutton chop while his gout oozes?

This is probably my most offensive post to date but I honestly don't get it.

We all know that renaissance is French for rebirth and I have long admired the push of the age to acquire knowledge, an extension of their desire to be well-rounded.

Most educated people spoke at least two languages, one of which was French.

They were landowners or they had trades but any learned man or woman also played a musical instrument or sang, and they read in order to be able to speak eloquently about astronomy, commerce, or spiritual matters.

--So why all the buffoonery & cleavage?
When my husband surprised my son and me before 8:00 a.m. two Saturdays ago, telling me to get out of my robe and rainbow socks, I had no idea what was up his sleeve or where we were going.

Then, after almost two hours of driving, he pulled into a parking lot at the edge of a huge woods.

Had I finally driven him to the brink of sanity and this is where he'd dispose of my body?

I wondered for a moment until I started seeing people in full regalia, hats, leather belts with handhewn wooden mugs hanging from them (sure, there would've been no plastic, paper or styrofoam TO GO cups), pulling baby carriages out of their hatchbacks.

Oh, it's one of those medieval faires, I caught on, feeling like a party poop, wholey undressed for the occasion, our first time in attendance.

Trekkies and vampire buffs had nothing on this clan.

In this hardcore kingdom of knights & Lords & Ladies, we would be the outsiders messing with everyone's sense of fantasy.
It wasn't quite ten a.m. of a Texas spring weekend but I hadn't seen this many women overstuff their girth into costumes they have outgrown since Halloween—and must these events call for the sleazy, purportedly "sexy" clothes?

Did the renaissance suffer from a plague of harlots and beer maids?

Because those were the only outfits represented.

And I would blame it on the retailers:

perhaps slutty costumes are all they advertise, but these fans are zealots and most of the costume pieces look custom-made (just in sizes too small), and I'd swear, if Civil War buffs insist on accuracy then they do not hold a candle to the diehard subculture that shows up at these faires.
Weight has been an interesting issue in history; during impoverished times when food was scarce, being fat and pale were status symbols because they meant you were well off and could afford servants to work your fields.

Then, being thin was the rage, as wealthy women fought to become social x-rays.

Currently, in an era of gym rats women are expected to have defined muscles, while working out to lose any curves—and then to buy themselves a new pair of ta-tas.

(Did you hear about the 24 year old British girl who flew to America last month for cheap plastic surgery and then died in a big chain hotel room from botched buttock implants?

Is anything sadder or more ludicrous?)
Ignorance aside, the faire's performers were ultra-talented professionals and I got quite an education on customs and the history of medieval instruments (and strangely enough—although they were the ones who were "putting on the show" the performers' costumes were subdued more like the kind of everyday travel wear a bard or a falconer might have really worn to work several hundred years ago before Shakespeare was a household name).

I couldn't believe the variety of acts represented and whoever had booked these inspiring singers, players, dancers, and actors had outdone him- or herself.

Shows ran all day long on eleven different stages, and we caught several minstrels, a mud show comedy act, the falconer, a magician and some belly dancers but there was no way anyone could have seen them all.

The talent present was an amazing value for the ticket price.
There were additional events like ax and knife throwing and an enormous swing that was run on manpower (actually "pirate-power"), each of which cost extra, but the entire faire was nestled under a huge canopy of trees and the grounds were rustic as we walked along dirt paths.

Great detail was paid to preserving that sense of otherworldliness (and everyone spoke a movie form of "medieval" English, none of which I possess enough of even to make a joke).

The food was pretty forgettable, although in the children's section we found a booth that sold the honeyed beer called mead, and The Jerusalem Café which sold overpriced Middle-eastern food.