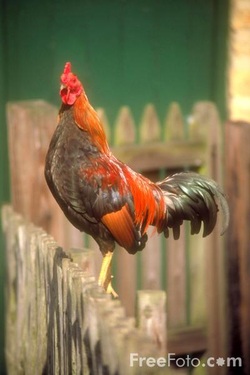 Although I eat the occasional egg, I do not know a whole lot about chickens--their habitats or their mannerisms--but of all the animal expressions (what we English teachers call anthropomorphism:

attributing human characteristics to animals) like "she eats like a bird," "your room is a pigsty," "works like a mule," and "busy as a bee," I am most curious about where the practice of calling someone a chicken came from and why we use that particular species to draw such a comparison.

I know they are a bit skittish, but really.

What's the hang up?

Whatever did they do (or not do) to deserve such eternally bad press?
Regardless of the expression's dubious origin, it has come to my attention that I am a bit of a chicken at times.

Take, for example, this morning.

I was terrified of making a phone call.

I sat for thirty minutes, trying to talk myself into just doing it, but the more I coached myself and soothingly tried to de-stress the more it became a neurotic aversion.

Why, you might ask?

Because the call I would have to make was going to be confrontational and, therefore, uncomfortable.

I could imagine the conversation along twenty different scripts, if only because I was taught in debate to anticipate the opposition, but I couldn't make myself dial the numbers.

Then, as an aftershock of timidity about that, I was tenuous about following up on another lead, an important detail for a writers' conference this summer that I really needed to get nailed down.

Where were my big girl panties, indeed?
Then, it hit me.

This was more than a problem with inertia:

somewhere along the line, I had become a ninny, and I was beginning to suspect that even my constant concern over "hurting another's feelings" might just be a brilliant veil to masquerade the severity of my dread disease, Chickenshititis.
Oh, I had all of the warning signs and I'd nursed a daunting list of symptoms:

the less I did, the less I was able to do; I shrank away from anything competitive or remotely aggressive; I yielded to more things in more instances than I felt I had a right of way; and I found myself saying, Is it really worth it? more than I repeated any other empty sentence.

I was no longer the girl who had no problem being the first one on the dance floor when the right song was played.

No, I felt riveted to my chair, like nothing short of an earthquake would move me—and then fleeing wouldn't be rhythmic but a push to vacate the premises before I was crushed by a fallen beam.

Fear had finally capsized curiosity and joyful abandon, and my shoes felt like anvils. It was more than I didn't want to make waves; hell, I didn't even want to make pancakes--not with an audience. I had become Woody Allen.
I realized then that I had been primed to give up, that my soul-garage was full of fragments from life that amounted to nothing individually but spelled out FORTRESS when accumulated.

First, there was Shania Twain's public statement which boiled down to, I am no longer performing due to stage fright.

Apparently, after three decades of training and experience in front of ever increasing crowds, she had encountered a terrifying string of bad luck, harsh performance conditions, or crippling critical reviews, and she unplugged the limelight, whispering, I am done with this.

I can't do it anymore.

And on the heels of her disturbing disappearance was the resurgence of an Anais Nin quote that has harangued me since my twenties, "Life shrinks or expands in proportion to one's courage."
Shania's sudden bow out was not mysterious to me.

I intimately understood her problem; it was a real struggle for artists.

When you're a fierce performer, pouring yourself out, it drains you, and although it is exhilarating to share that moment with a loving crowd that feeds your energy back I know many actors whom I perceive as CHICKENS (unprofessional addicts) because they cannot step out onto stage in front of a live audience without being high, or tipsy.

These drug and alcoholic shortcuts reveal more than the weaknesses of the personalities using: it lays bare the intensity of that grade of pressure.

Multiply it over time to various degrees; add the difficulties of life on the road and you will end up at Gum Drop Lane, where Shania now lives a normal life with the ex-husband of the woman who ran off with MudDog, or whatever Shania's ex's name is.

They'll be Mr. & Mrs. Witness Relocation soon if the press doesn't relent, stocking groceries at a local (but undisclosed) A&P.
Guppies in a bowl without a pirate's skull, a fake fern, or a sunken vessel to hide behind will shrivel from stress or die from overexposure, having nowhere to run to save face—especially if it's a face they are trying to revamp for a ballbusting comeback album.

There simply has to be a safe haven where a fraught person can catch her breath and configure her game plan.

In peace.