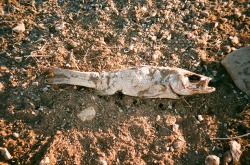 A man I'd read about, years ago, had died and his last request was that his skin be used to bind the manuscript he had dedicated his life to writing; the headline had read:

"Poet Wants Binding Taken Out of His Hide."

--Of all the macabre questions one might conjure when hearing this story, my most haunting thought centered on his adult children:

were those who had survived him supposed to go about this task and find a legal as well as a literal course of action with which to fulfill his desire, or had the deceased done the footwork, contracting a leathersmith and a publishing house?

If the details were in order, then the obsessed was merely waiting for his spirit to leave the body, surrendering the precious material that would soon bind his prized but heretofore unpublished book, a unique human-leather bound volume that still no one would read. . .
I cannot see anyone fighting for possession of that heirloom in the legal proceedings that surely followed (and, excuse me if this is prejudicial but, it sounds like a rich man's eccentric final act), and what kind of a legacy is that to leave behind, anyways?

That is a gift of the self, but also primarily for the self, for the preservation of an ego that would have dissipated, if not disappeared altogether after the funeral.
There is madness in the departed's request and, yet, I recognize the desire to have an artifact to represent the passion into which he had poured so many of the hours and days that were his life, and literary pursuits do not yield much of a solid nature for the amateur, except for the moments when a phrase or a poem is shared and appreciated or understood.

Shouldn't there be something substantial to show for the mental toil and the massive amounts of soul energy that go into the construction of the, if not invisible, than internal worlds?

Even the miniscule but constant effort of ants makes a mound.

Maybe what this unknown author was making was a pyramid for himself, a final resting place.

(Ultimately, I cannot help but think that his request is an ideal metaphor for the writerly life.)
Luckily enough, I have never received a "gift" like his (or anything verging on similarly strange terrain), but I do have a closetful of gifts from students and relatives I refuse to throw away but do not know what to do with and will never use:

a unicorn pin, a collection of ceramic clowns, and a bamboo vase with Chinese writing on it.

Bizarrely enough, however, the strangest gift I sometimes get is advice from well-intentioned friends like the lady who whispered to me, while caressing my hand, "I have known you were not happy—because you were trying soo hard to prove that you were."
I blinked at her and wanted to yank away my hand because it was kind of like with those poems wrapped in human torso.

I didn't know what to make of my friend's remark, mostly because I found it incredibly offcenter for how I have been feeling recently.

For weeks now, I am as happy as I have been in a long while, slinked out of the coil of outdated behaviors and busily working on some healthier choices.

To me (ahem, it is my life), she really had missed the boat on this one, but her face said she was waiting for me to concur or to—I don't know what, to fall apart, shrieking, "At last, someone has ferreted out my secret!"

What I wanted to say was, Stifle it, already, Helen.

Stifle it!

But instead, I was swept into the task of helping her save face.

Truth is, she had probably been harboring that thought for awhile and like a proud mama had finally birthed it—only to discover (had she been paying attention) that I had already fixed my engine and moved on down the road.
I know she was trying to be helpful, perhaps offering her shoulder to cry on, but I also think we tend to fall in love with our own perceptions (and the creative phrases we concoct when within that space), and sometimes the notion of NOT delivering those manifestos feels like we don't get our second to shine in the sun.
Let's be honest, I am NOT the Great Pretender.

Emotionally, I can be pretty transparent, partly because, if I am not carefully intuned, I will veer off the road into numbness.

For wellness, every day I want to use my body.

Every day I want to feel a spiritual connection, to be moved into doing something for someone because it is the most worthwhile pursuit I can think of, and not to strive to do so sends me into autopilot and, then, chances are no one is behind the wheel.

When possible, I want to be in charge of my life and my decisions, although there are days when I am not really sure of my direction and the vehicle I am steering more closely resembles a yellow school bus than a funky, painted coach rocking along on an international tour.