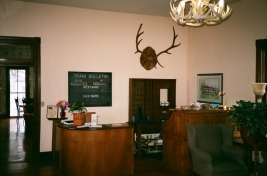 I found The Antlers Inn accidentally during my hiatus in the woods last month; it was the fourth freezing & rainy day in a row so I had gone, blindly, for a drive to ward off the boredom.

Antlers Inn is a beautiful plot of land adjoining an historic train depot in Kingsland, Texas, and among its series of buildings is an antique shop and an independently-owned restaurant, The Junction House, which served as the set for the trio of Texas Chainsaw Massacre films; one of the ground's most salient qualities, however, is its bucolic lakeside lodging, including four train cars in primary colors that guests may rent.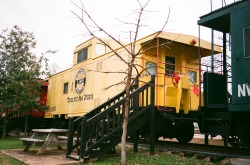 And so it was that my last Saturday in the woods, after hiking for hours in Inks Lake State Park nearby, Seamus and I toured The Antlers Inn and ate in the restaurant where those scary films had been shot.

The weekend, for me, was sailing by too quickly; after Friday night's guitar serenade to sunset, Seamus and I had retreated to the cabin where he had made a campfire, which roared on for three hours in the portable barbecue pit.

(Having read the site's regulations banning any "open fires" I had asked the man at the front desk for something suitable that we could have a fire in—and this sawed off hibachi had appeared within the hour, wordlessly left in the grass.)

So imagine my surprise when the Australian lady campowner stormed up in a golf cart, questioning us, "There are no open fires allowed.

The guy next to us hates our guts and all we need is for a spark to carry over onto his property and we'll have a lawsuit on our hands."

I tried to picture this campsite in season, overrun with drunken fishermen and screaming children; it would be a little like living next door to a truck stop or a trailer park—less than desirable.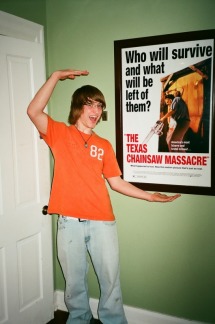 I had blinked at her in the dark, partly because I didn't want to deal with her nonsense (when I thought I had followed the proper channels, etc.) but mostly because all I could see in the night around the blazing fire in front of me was shadows and silhouettes.

"I do not mean to get anyone in trouble, but I had asked for something suitable to have a campfire and your employee got me this; actually, your husband was standing right there.

Besides, I'll be leaving tomorrow, checking out on Sunday, five days early."

(I had paid for the month.)

This wasn't how I had seen things going:

I had bought an entire box of firelogs, for Pete's sakes, and what good was a campgrounds if you couldn't have a camp fire?

I had paid handsomely, considering the rustic "accommodations," and had been a saint of a temporary tenant, the picture of solitude and politeness (okay, reclusive:

I had made the Greta Garbo of latter years look sociable).

She seemed appeased by the fact that I was prepaid but leaving prematurely so off she sped.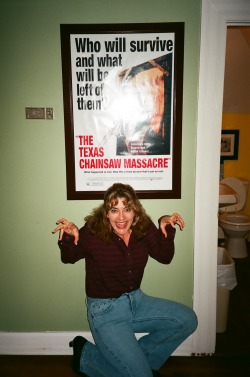 Saturday, Seamus and I had slept in (and the cabin had worked out, as far as privacy, with him on the pull out bed that had been hiding inside the sofa and me in the tiny bedroom), and we had coffee and a quick breakfast outside before heading out to hike the state park.

"Can I drive?" became Seamus' montra—and he did.

Seamus did all of the driving that weekend and he was getting pretty cocky about his skills, which made me smirk.

Good for him.
"I don't want to walk around," Seamus said after dinner.

We had hiked all day long and it was dark and the grounds were not lit, as if to dissuade this exact impulse, but I knew Seamus was just spooked because of the film's legacy, worried that one of those cannibalistic Texans was lurking, looking to lure in trespassers to torture them, before eating them and peeling off their skin with the film's namesake.
"Oh, come on," I pressed, leading him onto what I knew (from having visited previously in daylight to scout it out) was the path, "just a little ways.

You cannot say you were here without, at least, walking around."

But as the dark rooted in around us, as only night can in the country, I was hesitant myself.

"What?"

I teased, although I had moved in closer to him as I fought for my next step in the pitch black where everything resembled something it wasn't and all sums seemed threatening.

"You afraid one of those meat-crazed brothers is going to--"
"Shut up, Mom!"

he yelled, although we had both laughed, awkward sounds that bounced off of the century buildings.
"Really," I said, speaking quieter and tucking my arm into the crook of his elbow as the abject darkness had made it impossible to see, "I am less afraid of the fantasy around the films and more scared of, say, a fanatical fan of those movies who drove all this way to stay on these very grounds—who is renting a room and is maybe out here now, as we speak, thinking of evil things to do to passersby.

Like copy cat crimes."
"That's it," Seamus said, matter of factly, doing an about face that would have made a military marcher proud.

"I'm out of here.

Heading back to the car.

Are you coming?"
"Yes," I laughed, as we both broke into a run, "I am scaring myself to death!"