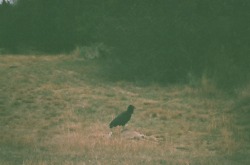 buzzard sitting atop a dead deer (Llano TX)
When my son, Seamus, was young and trying to explain something bad he had witnessed that he couldn't understand, he would always tack on, with emphasis, "and (the culprit) did it for no exactly reason!"

And so when a gunman in Arizona shot into a crowd outside of a government building last month, wounding 14 and killing six, including a girl who, tragically enough, had been born the day of the 911 terrorist attacks, I was upset without truly being shocked.

Is this scenario of one's private anguish being projected onto a large-scale public forum not a familiar one, at this point?

How many more fish-in-a-barrel Columbine shootings do I have to read about before I stop feeling anything?

How can I begin to comprehend the tortured selfishness of the man who targeted those Amish students so he could take a few bodies with him as he thrust his suicide into the national news? The twisted rationales and the random violence brings the truth of the musical Assassins to mind.
Assassins (1990) revolves around ten of the many throughout America's history who have tried to kill(ed) the president. Assassins is the least known of Stephen Sondheim's musicals and I still wouldn't have read it or heard the soundtrack if I had not auditioned for the play, which is slotted to be performed by the Sheldon Vexler Theatre in San Antonio in May-June of this year.

The play did not last long in its off-Broadway debut, and it didn't fare much better when it was reprised last year—with a star-laden Broadway cast because, it seems, the world doesn't know how to "take" the play's message, let alone know what an appropriate response should be (its "chief criticism" was that the "show had no point of view").

Is it a betrayal to agree with some of the sentiments the assassins, whose stories are relayed throughout the non-chronological storyline, share?

Not for me.

Emotions are complex and I can feel securely American but not content with every legal decision that is made in this country.

What is so difficult about encountering both feelings at the same time?
I admire the playwright for having the courage to utter these controversial ideas and to have them out there for us to discuss because hashing them out might just teach us a thing or two about humanity, nationalism, and ourselves.

I, for one, am not confused, and I love Sondheim/John Weidman's witty & sacrosanct script which goes out of its way to show these eight men & two women as comically off their rockers, although we may feel compassion for how lost Hinckley felt in his love for Jodi Foster.

His is a desperate quest to feel like a somebody, a noteworthy person in general with something important to say or contribute—but he wasn't, and neither are the rest of these real-world shooters.

With the exception of the oddly accomplished Charles Gateau, none of the characters is portrayed as talented or particularly able and this dire frustration is offered as a motive.

These are people moved, perhaps, to the ultimate re-action in order to "reconcile intolerable feelings of impotence with an inflamed & malignant sense of entitlement." A culture like ours is screaming for the kind of medicine that this Sondheim/Weidman vehicle metes out.
In his notes (June 1991) about Assassins, Andre Bishop (the first artistic director to stage the play) observes, "It is hard to write about a show that so few people actually saw. . .(although it is) one of the best things we've ever done.

The show touched a nerve, God knows, and it did so in a funny, daring, high wire-act way."

The show's theme may be so threatening because Sondheim/Weidman succeed in "humanizing" the assassins through dramatic avenues that get us inside their minds, and "seeing America through the stories of its villains, instead of its heroes, (i)s an unsettling & unusual experience."
I have no problems with a story (or a person) being pithy; actually, I struggle more with things when they aren't.

It doesn't surprise me, however, that in a time where "every third movie was good and every fifth movie was great," when there wasn't the "cultural pressure to make art" that West Side Story (1957) had a debut run of 732 performances, while over 30 years later Assassins died half-way through the double-digits.

I would rather have an artist give me the challenges of Assassins before asking me to survive on a shallow diet of Hollywood gossip or poppycock like Merrily We Roll Along (1981).