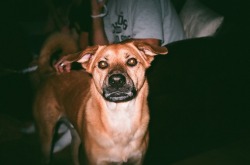 When my sister Theresa, a child bride, was expecting her firstborn, the OB told her to find something cherished to put in the delivery room, a beloved object she'd have at eye level to focus on when labor pains got unbearable.

She picked a ceramic bumblebee her macho husband, Mike, had made for his mother when he was a boy.

I always loved that story, how a sentimental bauble from her spouse's childhood could become the most treasured thing; of course, the very idea of tiny Mike lovingly baking that clay and then painting that bee for his mother was precious but how ironically appropriate was it that it became the object his wife would later gaze upon as she brought their own son into the world?
With my sister's bumblebee in mind, I raced to get into place for sunset, the blank notebook page already entitled THINGS I LOVE and it was hard not to comprise the list, mentally, as I hurried.

(Mind you, Theresa was a happy person, in general, a much more content housewife and mother than I had the talent to maintain most of the time, not that contentment was a contest, but with plenty to be grateful for myself I saw no reason why I should not draft a list of positives to visualize when life got to be too much—or felt like too little, an existence too puny to mention).

But, minutes later, once on top of the boulders, I realized I was too late.

I had dawdled too long over dinner dishes and had missed the big event.

A little dazed and disappointed (not to mention freezing), I packed up my bookbag and headed back to my temporary home, not realizing how fast and how dark it got in the woods after the sun went down so I stumbled over my feet.
And now, without invading my own privacy or stupefying you with boredom or drowning you in sappy detail with a comprehensive list, here are a few of my LIFE favorites:

garlic, the sweet pink pads of babies' fingers and toes, secret passageways, puppy breath, black & white photography, bridges, drive-in movie theaters, watching ants, wedding cake, electricity, lady bugs, surprises, my husband's special-purpose telescopic glasses, the ingenuity of the water cycle, listening to my son play his guitar, evergreen trees, hot showers, donkeys & goats, picnics in the park, hiking trails, miniature train sets & dollhouses, pretty shoes that don't pinch, laughter at the dinner table, and thoughtful words & inspired compliments.
. . .I may have missed the day's sunset but I haven't discounted its blessings.

Today, after almost a sheer week of solitude, I drove to a neighboring town to spend two special hours with my husband, who had dropped off our son at his out-of-town girlfriend's before coming to meet me for lunch.

The first thing Steve did when he got out of his truck was to hand me a dish of fruit he had bought for me, "Because I know you love it--and I made sure there was no cantaloupe in there."

(And there it is:

fresh fruits & vegetables were on my THINGS I LOVE list, as was my husband's touch.)
Stores are full of junk we don't need and expensive objects that have no lasting value.

It is also true, however, that we are often hypnotized by housegoods and stitched pillows with feel-good sayings on them like Count Your Blessings, but before today I had not actually tried that, never really taken the time to write anything down.

And now, having done it, I can still honestly say that there isn't one item on my THINGS I LOVE list that, in a thousand years, would constitute as an artifact that would yield anything for or mean anything to an anthropologist who might unearth it, but it doesn't stop this list--my treasures—from being the things most worth living for to me.

The trick then is making sure to prize with your time that which is most essential to your life, your well-being & your happiness.