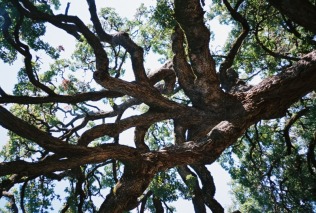 "And now," the KJ announced, his voice too heavily reverbed in the speakers, "please welcome to the mike for the first time tonight, the one, the only ALVINNNNNN singing Just Once!"
Of course he is
, I thought, groaning, probably loud enough for the regular karaoke singers around me to hear.

(FYI, the names I will use tonight are disguised to protect the identities of anyone I may injure because I am just tired enough of the nonsense to hurt some feelings).

"Alvin" is a regular's regular, a rip-roaring singer who croons the same ten R&B eighties ballads that he has been singing—and using for contest material—for over two decades, and it's gotten to where my teeth clench when he enters the club because I know what songs he will sing, and he never strays to pleasantly surprise.

I am not picking on him because almost all the regulars keep a short list of favorites and when six or seven of them sing in a row—I have to fight the urge to leave because I cannot take the monotony, week after week with little variance.

Broken records have no idea what broken records really sound like. Lots of repetition, little risk. I smell Middle-Age mildew.
Now, I am also a strong singer, performing karaoke since its inception in the late eighties but I have a song sheet of 315 titles I have amassed because I make a point of adding to it constantly.

What this translates into in a live performance setting--for the non-veteran karaoke enthusiast--is that there will be many, many weeks when I am trying new songs (from ALL available genres and decades), forging into virgin territory where I can't be sure of the timing until words are sprung upon me so the quality can be raw and under construction.

--Granted that's relative because I believe that a singer can always sing, and a performer will "dress it up" if she "messes it up" so I am not talking about hideous renditions that make the paint come off the walls—and that is my bone of contention with good singers who take the lazy even cowardly route.

I love Luther Vandross but he hasn't had a hit since I was in high school (and some of the older guys who only resurrect Cash & Sinatra-era tunes are as guilty). It is time to cast aside the worn-thin security blankets and to step out on to some new ice.
Ppleeeaazzzzzzee!
Enter newcomers, either partiers or non-singers who are with visitors from out of town, looking for a fun night out.

They will walk in half-drunk in the middle of me trying to learn Bad Company (a male rock and roll group, Nana) for the first time while Alvin (and most of the other regulars) deliver a limited diet of their Greatest Hits.

"Wow!

Listen to him.

He can really belt it." Little do the visitors know--or care, as they are only passing through and won't be stuck in the middle of the movie Groundhog's Day, having to relive the same melodies repeated to the verge of madness--that these fellas are one-hit wonders who have sung these same four songs 4,000x each.
Yes, I have been in the woods too long, forgetting those idiosyncratic barbs like "Bill" asking if I have sung the Mark Anthony song yet tonight (see the problem?

These don't venture out, and I run out of women to emulate and so start tackling the guys, just to hear those great songs that no one tries until me—and then they take them over).

Feeling gutsy, I asked Bill why he had never picked that selection until after I'd sung it.

He'd replied, "It's like when someone else is fishing and you don't throw your line across theirs.

It's called courtesy." (I understand the analogy but don't see how it's applicable in this setting; it's like he's confused his
Befores
with his
Afters
.) In the end, however, I guess a mimicked new effort beats no attempts at all.
"Happy New Year," I say to Alvin when he has finished; I am being polite and want to buoy the slow-jam mood.
"Have I not been here this year?"
he asks, already texting—a second annoyance:
he will be emotionally vacant while everyone else sings, texting up a blue streak or laughing loudly with one of the drifters or new "admirers." That, and he couldn't be cockier. On longer, slower love songs (is that humanly possible?) he drags a chair out into the performance space and slouches back in the seat with thighs open, sits and sings the mopey epic, a shamefully common
occurrence.
"No," I answered distractedly, "I haven't been here since December."

It was almost February, after all.
"Oh!"

he said, tapping me on the shoulder & chuckling girlishly, "Then it has to be my first time because you are a fixture here."

(I curled my tongue around itself to keep from letting an acidic retort fly.

What a jerk.

I know for a fact from a friend who has been there for ten years, "Vernon"--who is my hero because he can cover, perhaps, more artists than me--that Alvin is foundational, coming on and off about as long.

I learned about these Wednesday night sings two years ago and often miss a month or so at a time when in rehearsal or with a play in the wings.)
To practice what I preach, I next sing a pop song that was on the radio every five minutes in 2009 and when the two obese Hispanic girls who always sing together but put up slips individually (meaning they sing two songs in a row, backs to the audience, standing still as statues and singing straight off the monitor—no matter how many times they have sung those songs before) giggle and whisper to each other when I am done, I decide to call it a night—but not before Alvin bends into my ear to say, "Have I ever told you how much I love the way you moovvee?" Mother, help us.
The sad truth is I am an addict who needs this healthy release as a fix--especially when there are almost no other bodies in residence; otherwise, and you will understand me now when I say this, I wouldn't be such a fixture there.
It beats the couch and riding bed sores. (Right?)