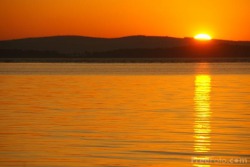 Rotting fish carcasses or no fishy fish flesh, I was going to see the sunset.

I scurried across the debris-filled sand to get to the boulders at the property line because not only were they a cool kind of natural, outdoor furniture I didn't have to tote back and forth, the elevation would allow me to watch the ambers & violets until the splendor ended, taking the viewing light with it.
And it was spectacular, today's sunset, like a volcano changing its mind and reversing direction, colorful to the extreme without the life-ending blast, but when was the last time I had seen one?

Or had even thought about the sun setting?

Shamefully long, I'll promise you that much.

Add it to the list of things I get too busy to notice in my uncomfortably conventional routine.
Sometimes you make a rash decision and look for any semblance of a sign to affirm the move, and then there are days when the theme seems to be in your face no matter what you do or where you turn.

It's the pointed clue in a crossword puzzle, the headline of a news article, a song on the radio, and every program on the television, no matter how many times you change the channel.

Today, I was choked by words from Tom Wood, a character in the Paul Auster novel I am devouring:
TOM (a long silence; then in a low voice, as if speaking to himself):

"I want to live in a new way, that's all.

If I can't change the world, then at least I can try to change myself.

But I don't want to do it alone.

I'm alone too much as it is, and whether it's my fault or not, Nathan is right.

I'm in the dumps.

Ever since we talked about Aurora the other day, I haven't stopped thinking about her.

I miss her.

I miss my mother.

I miss everyone I've ever lost.

I get so sad sometimes, I can't believe I don't just drop dead from the weight that's crushing down on me.

What's my Hotel Existence, Harry?

I don't know, but maybe it has something to do with living with others, with getting away from this rathole of a city and sharing a life with people I love and respect."
. . .Today, before the sun set it had shone brilliantly.

When I had opened the cabin door this morning to feel the temperature so I would know how to dress, I agreed to dance with the sun in its shine all day long.

After the cold greyness, days on end, if the sun promised to stay out, I would play in it and I did.

I drove to the dam with high hopes and the expectation of a tour and of lingering, but when I almost got arrested by the security guard on premises for (I guess, suspiciously) looking around for a way in, he regretfully informed me that, "There are 2 ½ miles of beachfront here but that's the only open area there."

Then we both, wordlessly, regarded the fenced off rectangle of grass in front of us, slightly larger than your average dog run.

So I got back into my car and left.
But I didn't give up.

I drove on, deciding to veer off the main road with which I was getting familiar.

(NOTE:

you must know me to understand how directionally-challenged I am.

I am not exaggerating when I say, I have NO sense of direction; plus, my car's ten-years-old and has no GPS, and the plug-in one I own was safely stowed on a counter in the cabin--in case my car got broken into while I slept.)

Regardless, I stumbled upon a park with waterfront access, and I parked and walked for an hour or better until my knapsack bored a heavy sweat patch down my back.

And, I was the ONLY person at the park except for an RV owner who was out having a smoke at the park when her dog rushed at me ("You're the first person he has ever barked at," she informed me)—on a sunny day.

Three days out and about and the only one I have had an almost-conversation with is the cheerful, Australian camp owner.
What I cannot comprehend is how this place is teeming with "Winter Texans," but none of them has ventured out of their cubby holes.

No barbecues.

No informal groups clustering just because they are bored out of their skulls.

So, what is the point of driving around the country if you huddle inside your aluminum shell, only poking your head out to use the laundry facilities?

If all you are going to do is nap, watch television, or play Sudoku, then why did you leave your driveway?

Why spend the gas money, and what does it matter WHERE you are if you do not get out of the RV?
This evening, after sunset, I rounded out the day by taking another walk around the campsite, and I conducted more internet research on the surrounding areas.

We will see what comes of that and I will keep you posted.