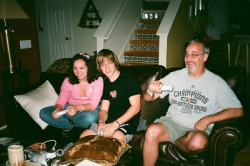 I note again the stubborn stain on my white blind over the kitchen sink--a perfect metaphor for the imperfect passing year. (A guest of ours had had too much to drink while visiting and in trying to open another bottle of Merlot she had sprayed wine all over the slats like a Rorschach's Guess Who. I had assured her not to worry, that I would chase it off with a good dose of bleach but she was right. The stain has remained and it seems that no elbow grease or solvent can remove it.) Yes,
2010 was a crumbling cork of a year and it saw me in the worst rut of my life so it is high time for a melodious tune. I welcome it!
Although communication is essential to relationships or to the success of any "project," it is often hit or miss and, like charity, communication begins at home.
For starters, no matter what anybody says, you have to talk to yourself.

To know thyself in order to heal thyself.

Talk to yourself, journal, make lists, whatever works for you:

I do all of the above.

Your resolve doesn't have to be formal and it doesn't have to occur on your birthday or at New Year's, but it should be on a regular and meaningful interval for the best accountability.

(Why listmake if you never revisit them or set step-by-step aims through which to achieve your goals?)
And so I was making a list of things to do—domestic chores for the week like get the dogs to the vets for shots, buy air filters for the house, make haircut appointment, dinner & dishes.

Beyond that I had a more global, personal list I was still compiling in my mind, my goals for the month and the things I would like to accomplish this year.
Lots of prompts help me focus and I will often ask myself questions that jumpstart the lists.

Yesterday, it was "Describe yourself in three words," and my immediate response was Determined, Capable & Terrified.

Well, there you have it, the root of my evil.

Everything that I want, all my big dreams scare me to death, but luckily one thing scares me even worse--complacency, the thought of not even trying, of settling.
Existentialists talk about the gross futility of routine, considering us clones of Sisyphus trapped into doing the same thing over and over, but as uncharacteristically chummy and cheery as it seems, Camus resolved this by saying that there is valiance in the effort.

That is where I dig in my heels and set up camp.
Already this month I have finished three novels and started a fourth because I have made reading a priority.

I love to read but I never really stop long enough to establish it as a consistent habit.

Since I have been out of school every year I say I will read ten novels and then I, maybe, stagger through three.

I have also extensively started editing two of the novels I have written and plan to push harder to get a literary agent.
I have joined the Writers' League of Texas and will write a screenplay (and maybe a play) this year, culling a script from one of the ideas I have had rolling around inside of my head like rogue balls of hail.

I will continue in my role as an ATAC Drama Judge, and I have already been to four auditions—including one for a commercial I attended last weekend.
My husband and I are working on some private renovations and our son will get his driver's license, work toward his senior year of high school and start applying to colleges.

I have found a regular walking partner, and the family will get to the gym more often and watch less television.

I will take at least one dance class—and will go dancing at least once a month.

Spiritually, I will tackle those non-fiction C.S. Lewis books, and there will be a few quick trips just for fun, this year!
After the terrible Arizona shootings, the neurosurgeon to Gabrielle Giffords reported that, There is no reason why she should not make a full recovery, but it will depend on her fight and will to survive. Here is the metaphor to thrust us into another year, a vivid reminder of the importance of determination. In 2011, I hope to factor in plenty of wild surprises but as for the rest of my plans and "itinerary" the most accurate summary I can wish for is, To be continued.