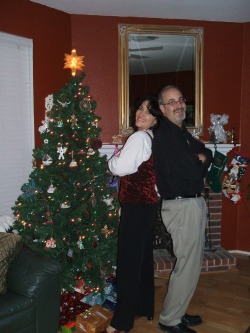 Whoever wrote the 12 Days of Christmas was ultra bird-happy. He had birds-on-the-brain or how else do you explain the constant gift of poultry: partridges, turtle doves, French hens, colly birds, swans & geese?

I definitely don't know the answer to that obsession but, I'll tell you, when I hear "turtle dove" I think of chocolate.

Turtles, as sweet-toothed Americans know, are chocolate-covered caramels with pecans, and Dove is a rich brand of chocolate.

In this heart, my entry for the second day of Christmas centers on Christmas chocolates, dedicated to the memory of Mother Anderson, who will have been gone two years this Valentine's Day.
"Am I supposed to spread the butter?"

my husband asks full of disgust, holding a pat of pure fat that is dangling dangerously from his spoon.

"On the cookie sheet?

With my hand?!"
I nod, yes, and he is very disillusioned, probably hoping I would scoot over there where he was fumbling with the raw materials for baking his first ever batch of homemade peanut brittle.

And, I turn my back (after taking a picture of him at the stove) before smiling, not just because I had talked him into wearing his man apron—one I had bought him years ago for barbequing outside, really, and the poor garment hadn't seen much use.

(It was more of a museum artifact than a tool he'd relied upon.)
But because before he had even gotten this far, we had had to take a (several) trip(s) to the grocery where he had bought not only exact brand names and ingredients from his mother's recipes for peanut brittle, caramels, and Martha Washington candies but every imaginable tool he might need in the process.

M

ind you, I have done the preponderance of cooking in this marriage and up until this moment ALL of the holiday baking, and I know the placement of every item in that kitchen with my eyes closed, and I have never had the proper equipment to make many recipes but I have made due and here he is, doggone it, with specialty recipes that will be made once a year and he had to purchase every single gadget.

(How can you NOT laugh at that?)
"Is that the biggest bowl we've got?" he fussed, trying to mix the flour and powdered sugar but pouring a good portion of it on the island and onto the floor, where four bad dogs rushed in to lick it up (before getting shooed out of the kitchen, again).

And I shrugged again, thinking of the countless times I have struggled to keep items inside that bowl's confines myself.
Mother Anderson had made the best Christmas candies I had ever tasted, and I had asked for those recipes a year or two before she had passed but had long since given up the idea of receiving them after her death, and so imagine my surprise when Steve's dad sent copies of them to us in our Christmas card last year.

The project, however, had been Steve's idea from the get go.

Suddenly this year, when I had asked my guys to put in their request for favorite baked goods before it got too late or I got too harried to want to bake for the holidays, Steve had said, "I'm going to look for mother's recipes," and a next-gen tradition was born because there was Seamus, just as foreign of a molecule in the kitchen, right beside his dad, measuring out ¼ of a teaspoon with fourteen contraptions and throwing batter all over the backsplash from a lack of familiarity working the beaters.

–And, me?

I couldn't have been happier, admitting that there were a few times when I (with my beat up apron on, although I was trying to stay on the sidelines like a coach they could call upon) had to wipe away tears as I changed the selection of carols I had playing as a musical backdrop.

I was just so impressed and touched by my husband's desire to connect with his mom and to bring back to life an important piece of his childhood this way—stepping way out of his comfort zone.
This year, as we eat the candies or put them out on our table to share, I may mist over again, remembering how even the wording of Steve's mom's recipes revealed her personality, saying "two boxes of confectioner's sugar" without measurement or sizes to the step in the process she wrote as, "Take the pan off the stove.

Turn off the burner."
I did a little research on the real turtle dove, a slow-flying bird in the pigeon family that mates for life.

It is immortalized as a symbol of love & loss in art, literature and folk song from Shakespeare on down so when the holidays are over, I won't grumble about where my man will store the large new candy thermometer and the handheld nutgrinder until we will need it again next Christmas.