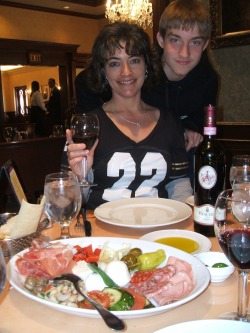 I had just painted on eyeliner and was gluing on lashes, stage make-up sprawled out at my section of the long cafeteria tables in front of me, when Mark walked up and introduced me to his mother.

Although I had never met her, Mark and I had become such close friends as I finished my senior year that I knew many intimate details about the health problems his mom had faced, the series of chemo and a radical mastectomy.
But there she stood with a radiant face, her arm outstretched to shake mine in greeting.

She was a beautiful woman still, strong features and a discernible intelligence in the eyes, although there was an unmistakable weariness within them that suggested the long battle she was struggling.

Because she had lost her hair, she had a wonderfully bright, patterned scarf wrapped around her head like a silk turban, and she had enough old Hollywood glam to carry it off in any season.

She was a striking presence and I felt terribly unimpressive in contrast, but she charmfully wished us both a good show as Mark and I went into performance-mode ("Grease is the word, is the word, is THE word.").
I was glad to have met Mark's mom, to put a face to a name and the great memories Mark had shared of her with me, the early tapes she had made of him, telling from memory and in his own words, the story of Cinderella, a servant transformed into a princess through the powers of love.

How we would howl when baby boy Mark got to Cinderella's makeover:

"Then she got the beautiful dress—and shoes.

And, her good hair came!"

That, and he always talked about the amazing chocolate chip cookies she made from scratch, a cureall to his woes. In the arena of comfort foods, cookies were at the top row, and chocolate chip? At the top of the top. It may take 800 grapes to make one bottle of wine, but the love and thoughtfulness that went into a homemade batch of cookies is what made the heart smile, a longlasting warmth easily remembered.
Tragically enough, that was the first and only time I would ever meet her in person as I went off to college and she died of cancer before Mark finished high school.

He went on to New York and became a regularly-employed NYC actor, one of three people I grew up with in Cleveland who went on to make it "big."

(Ahem, I won't namedrop.)
Now, I haven't shared several strands of his success story:

(a) I did not bear the misfortune of losing a vital person in my life at an early age, and (b) I never parlayed my miscellaneous skills into one professional career.

But, I have learned a thing or two about the importance of small sweetnesses in tough times, and I did have a very special woman in my life whose chocolate chip cookies were just as fabulous and meaningful.
I hardly knew my Grandma Mary because she was so quiet but when I got older and she was widowed I pieced together that my grandfather had given her a rough way to go. A tiny person (four-foot nine-inches) with red hair and freckles, she lived in a small house (500 square-feet) I would later buy, my first home.

Because her front door never seemed operational, we came in the back door on holidays or Sunday visits when the house smelled like ham and au gratin potatoes.

I am sure I speak for all twenty-six of her grandchildren when I say we were transfixed by the pink cookie jar that sat on the card table in the kitchen, as that is all that would fit in the 6'x8' room.

Regardless of what her personal story entailed, t

hat pink cookie jar was forever full of cookies, no matter how many of us that dipped our grubby hands in there to steal a cookie—and no matter how often.
I remember, as children believe that they are the only ones to think a certain thing or that a feeling is unique to them, being so surprised at her funeral when her youngest son, now grown with grown children of his own, talked about his deepest memories.

I balled my eyes out when he got to the sentence "and, I don't know how she did it, but she managed to keep that pink cookie jar filled with soft, homemade chocolate chip cookies."

Here I had thought that magically-replenishing cookie jar was my secret, but I discovered in that exchange that the pain of loss was personal but the love expressed, universal.
Knowing the importance of that small childhood treasure, I searched myself two years ago for a pink cookie jar identical to Grandma Mary's.

I never did find it, settling for one made of clear glass that I do try to keep full of one homemade treat or another—although it's empty at the moment, thereby proving I have not kept up with my grandma's impeccable track record.
I haven't seen my eclectic friend, Mark, in years but I hear he is going to culinary school, and he is forever posting pictures of his baking expenditures that, coincidentally enough, never seem to satisfy like his chocolate chip cookies.