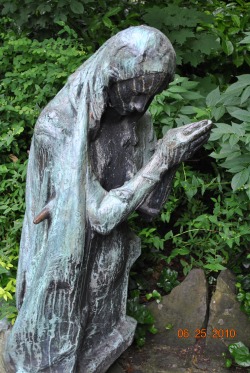 I am not one who is likely to see the Virgin Mary in a potato chip.

As a matter of fact, I am not impressionable at all or prone to spooking, leaning more toward skepticism than anything else.

–But, when treading in unfamiliar territory, it is probably best to "stick to the facts, Ma'am."

So here goes. . .
BACKSTORY:

I live in a decent neighborhood but believe my neighbors aspire to a higher-perception of themselves as one or the other of them is always getting marble countertops or three-tiered decks installed, replete with adjoining bars overlooking heated pools, not to mention the quarterly gardeners hired to remove dead shrubbage and import soil or mulch, depending on the season (an expense my husband and I have not taken on in the decade we have lived there—and we've got the sore backs to prove it).

So, I was slightly put out this morning when the construction truck with the extended trailer was parked across the cul-de-sac, making it nearly impossible for me to back out of the driveway (I had to cut across the tree lawn to maneuver it).

I was irked but not surprised, as I said:

it happens all the time.
INCIDENT:

December in Texas means morning and evening temperatures dip into the 30s so I was also not surprised to see my car windows covered with a cold mist, tough to remove since the weather stripping is original and therefore, gone, so even when I roll down each window, yes, manually (the car has automatic nothing), it is streakily cleared but hardly visible.

Wipers cleared the windshield just fine, but since the crew was blocking my rearview, I really needed to see behind me today or we'd have ourselves a collision.

I had used any napkins I might have had in the car so I put the defrost on high, fiddling through my purse a minute for it to do the trick, but when I glanced up, the back window looked like someone had written PAIN in the mist in the same way you might write your name across a steamy bathroom mirror.

Well, it did and it didn't:

on closer inspection the markings, too thin to be a finger, were easily explainable drips, starting at the top and falling to the bottom on the driver's side.

I had imagined the "P" altogether and the "I" mark was before the "A," looking now like the man's name, "IAN," clear as a bell, and I laughed at my own silliness (reading meaning into random water drips! Geesh).

But as I looked again before reversing down the drive, the last leg of a drip fell across the mist, making the "N" an "M."

It now read an unmistakable, "I AM."

Chills went up my arm.
Although I had had my car for nine years and nothing like this had ever occurred, I was tired and wanted only to get my head centered for work.

I thought, "That's nice," and put the incident out of mind, heading for the highway where I was soon enveloped by the worst fog I had ever encountered.

There was not a hint of it en route to the freeway and I had just passed the exit where that massive crash (*see 11/19 blog) had made me an hour and a half late for work. Tire marks had burned into the fast lane and continued up onto the concrete wall where the truck must have skidded.

Someone had lost his life in that accident and my primary concern had been that my time was impinged upon.

As I made that connection the fog appeared, a white out so complete it was as if a stage curtain had fallen.

I slammed the brakes to reduce my speed because I could not see ten feet in front of, to the sides or behind me.

It was like an FX crew had cordoned off that strip of highway and fogged it out with an industrial machine to shoot a scene in a movie, only scarier.
These were the images and thoughts that flashed through my mind, in order:

"How is this possible?

Where am I? Where did this come from, so thick and out of nowhere?

Wow, this is like that cloud and pillar of fire in the Bible (I had never understood how the people could have taken direction from a cloud).

No, really, this looks like what the inside of my brain has felt like, fuzzy and lost.

This is dangerous.

Almost as dangerous as is taking sleeping pills every night.

Been two years already.

This is bad; I'm never gonna get there.

But last night, I did it.

Made myself go to bed without them (thank you for the strength), and although I didn't sleep much I still woke sharper, less heavy and depressed than I've felt in a long, long time (couldn't have done it without you).

We'll make it.

Gonna take it slow, but we're gonna get there."
Then (see, I don't learn a lesson!), I angrily passed the unbearably slow vehicle in front of me, set to flash the driver a wellspoken stare when I noted the ancient man behind the wheel.

He looked terrified (and, if my eyesight was failing me in this fog, what was his doing?).

Poor guy couldn't see beans, not even with those thick spectacles.

I hurried and got back in the lane in front of him, putting on my hazards and saying out loud to myself (he obviously couldn't hear), "Here, fella.

Sorry.

Follow me.

Watch my lights and follow me.

We'll get you through this."
And, I kid you not, that wall of fog lifted.

As soon as I had looked beyond my own dome and cared about another's predicament, we were on the other side of it, the entire thing lasting 8 exits/miles/minutes. The sunlight so blinding when we cleared through I had to drop my visor, and the events made me look out the back window but it was dry.

Still, the message was clear to me:

my situation was altered when I changed focus.
SUMMARY:

It is one thing to pray for a sign (Speak to me!) and another to ignore it when it comes.

Of course I'd read the word PAIN in the window, the message that you read that reads you:

that Edgar Allen Poe-esque place is where my heart has been. Looking deeply, have I not been feeling overlooked and like God was deaf?
Go ahead.

Check the weather report from New Braunfels for Friday.

Call me a lunatic.

Give me a sobriety & a lie detector test:

I know what I saw (and now sound like every crazy who claims to have seen a UFO) and this is it, relayed in real time as it happened.

You don't have to believe; I don't think that's why it happened.

It happened to me and for me, not because I am inclined to believe but because I needed to see.

This was not the product of wishful thinking but a personal challenge, sent in an anything but subtle format.

I needed to see because I am not one who would run to tell the world about the "miracle" she had witnessed; no, I would keep it to myself, telling exactly no one because I would (a) expect them NOT to believe me, and I wouldn't (b) want them thinking I was nuts.