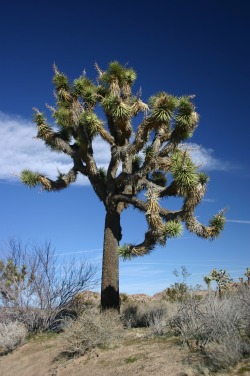 I read the article again, distractedly flipping the corner of the printed page with my fingernail.

How Edward Rosenthal survived the desert of Joshua Tree National Park without food or water for six days in 100 degree temperatures was miraculous.

On September 24th the 64-year-old went on a day hike in the desolate park but took a wrong turn trying to get back to his car; he strayed for 13 miles before realizing he was lost and could "go no further."

He stopped there to wait for help and lived because he "lied low and wrote on his hat."
Because Rosenthal was known around Los Angeles for "writing short, humorous poems and reading them aloud at public events" he "naturally had a pen with him." He used his hat as the canvas to compose notes of love for his daughter and his wife, whom he lucidly thought he was widowing.

His message told them how much he loved them and that if they "ever got down they should just think about how much he loved them and that there is always hope," but it also included practical details of his funeral and the poems he wanted read.

He even said who they could trust and that the vacation he and his wife had been planning should still proceed, telling his wife, Nicole, who she should take in his place. The hat, which his wife plans to frame along with a map the ranger gave her showing exactly where Rosenthal was found, got crowded so Ed used a lot of abbreviations but it "was legible" and he "never ran out of ink."

The best part is he didn't have to die to enjoy the Persian food he had craved on the hike, and as soon as he recovered from the dehydration he was hospitalized with, he enjoyed that celebration of his life with those friends he had imagined at his wake.
So why this story now, five days before Christmas?

Well, look at the year in review: 2010 was rife with rescue stories, from the two cruiseliners that were rocked by 30 foot waves to the miners who were trapped underground for over a month. Besides,

I love stories like this, especially ones with real, happy endings, because it strengthens my beliefs that we are who we are for a reason; had Ed not been a hiking writer, might the lack of a hat or a pen made him despair and give up?

That focus and activity kept him hopeful and alert. Plus, there exists the ugly fact that I have taken too many wrong turns in life to count, enduring periods where I have been lost, no less so than that real estate broker was last September but mine was in a less dramatic fashion, and there certainly were no relentless horse, dog, or helicopter crews deployed to save me despite the fact that I was lost longer than a week, maybe months but most likely years where as Sade sings, "Will I hurt my future if I stay?"

There have been Christmases where I have sat next to my discount-store tree sipping a lonely eggnog and watching the cars sludge along snowy streets, hearing occasional fragments of conversation as passengers unloaded from their vehicles in front of loved ones' homes, knowing I wouldn't get any company myself—and I had no invites. Some holidays I have been too sad even to play music because lyrics like "the weary world rejoices/ for yonder breaks a new & glorious morn" were too spot on but hard to believe in, and I wanted the holidays to "pass, already!" so there wasn't such expectation for cheer.

I empathize with those for whom this time of year is painful, painful because you wish to feel the joy that everyone else is expressing and to join in the wonderment. (Is there a more desolate place than, not just feeling lost but being left out?)
Whatever your emotional barometer reads this December I hope Edward's story gives you a boost. He isn't handsome & he wasn't young. He is nobody special, at least no one we had ever heard of until the near-tragedy, but his iron will and ability to withstand what could have been a devastating scenario--his last, are inspiring. He's not a hero and he possesses no special powers, unless you count love & hope. . . That is why this story means so much to me. It shows the strength of the human spirit. May it fortify you too, and here's hoping something gloriously unexpected happens to you to "rescue" you if you are feeling lost.

But, remember, there are ways to help yourself, that already, today & right now, within you, you have tools and strengths to participate in your own "salvation."

And, don't dismiss the simple things! If you are feeling alone and someone gives you a smile, return it, and if someone offers to lend a hand or an ear—accept it.