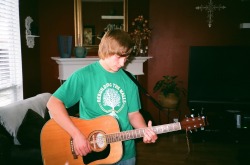 The Empty Pot
When I had suggested to my son that we move
the seedlings from the foyer to the corner of our lot,
I thought I was saying Goodbye in the usual,
sheepish way but, in late fall, he marched out
to the spot, arms around the pot as if he were
a giant securing a village.

I love plants, but
I have never been able to keep one alive
, I told
him as I hunted a shovel.

In your first try,
you have two leafy shoots for two pumpkin seeds
.
Still, studying the wind and sky, I was sure I was
setting him up for failure, a familiar lesson.

After
we had patted the dirt I prayed as I tucked him in
that the repotted plants--out of sight--would become
another abandoned obsession like magic tricks.
The morning I had tiptoed over cool dew
to find one shriveled stem, I rushed my son off to school
when he had asked if he could water the plants, yet
right before Christmas we walked out to a pumpkin patch.
When he said, Look how that one seed split into three
vines

,
I thought, He saw growth where I saw death.
When he pointed to the harvest bulging under leaves
the size of elephant-ears I had thought, When did
my dreams get so small?

Circling his garden, I stood
witness to the wonder of God, the ancient earth, and an
eight-year-old's optimism.
Then last night, frost
finally hit,
destroying the matrix of heart-shaped leaves. . .
I considered the parent who flushed the floating goldfish,
its replacement in the tank before the child noticed, and
I recalled the emperor who gave a seed to each child
in the kingdom, pledging the throne to the one who grew
the most beautiful flower:

the boy who had brought an empty pot
won because the seeds had been baked. . . At first, my son cried,
turning away to stuff frozen pumpkin leaves into a garbage bag while
I tackled tendrils the vine had woven into the grass, tiny anchors
I had trouble removing, but, then, standing at the kitchen table
where
we had just transported the smallest, green pumpkin--our last
rescue,
he brightened over the lot, his happiness like a second sun.