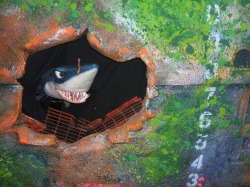 Ever witnessed a crime or petty theft?

Or

wondered how in all these trials some innocent bystander just happened to be going to the sink at 3:00 a.m. for a glass of water, glanced out their kitchen window and became part of the complex judicial process?

After Friday, I no longer consider these occurrences lucky happenstance.
She was slick, I will give her that--but I'm getting ahead of myself... I had passed her on my way into the dollar store; she was leaving, balancing four packages and the receipt in her hand.

It was early afternoon and I was in a hurry, needing one item and figuring the dollar store would be cheaper (obviously) and quicker.

Now, anyone who knows me knows I am not a shopper and dollar stores tend to make for very poor shopping experiences, made even less fun with the abundance of holiday thrifters picking up mostly stocking stuffers, gift bags and the like, but I immediately found what I had gone in for then sighed, seeing the lone cashier and the line of shoppers already checking out ahead of me.
Imagine my surprise when I passed the same middle-aged woman I had seen when coming in; only this time, she was headed toward the entrance and I was exiting.

What was she doing back?

I couldn't imagine anyone prolonging this agony as I climbed into my car, which was parked, magically enough, in the front row with a perfect view of the store and what would turn out to be this thief's shenanigans.

Mind you, I had absently watched her lift her trunk to unload the purchased junk.

She was more than done with her transaction.

Why hadn't she left?
I never will understand why commercial establishments store merchandise out in the open, unless there is at least intermittent staff to man it because the temptation is too great.

The mind entertains the ease with which one could pull up to the display and load the product into her vehicle, undetected.

Of course, that doesn't make it right, but what got me most was this lady's greed.

She wasn't trying to reward herself with a handful of canes, no, she stuffed the cart with them, top and bottom baskets, emptying two of the three bins, only stopping because there were no more of that variety. Like the infamous Grinch who had pocketed even the wires from the walls where pictures had hung, this little beauty had cleaned the dollar store out of their three-foot tall red and white decorations.

What was she trying to do, adorn both sides of her driveway with the stolen goods?

I felt slimed, fuming that she had been so brazen.

It's not like she was stealing a prosthetic for her crippled mother or medicine for an ill child.

What must-have list were candy canes on the morally shifting grid of right and wrong?
There she stood, obvious after awhile, aware of my presence and watching me watch her.

How else do you explain her dropping the canes to fish in her purse for (what?

Money, some cash so I would be satisfied with the visual as a promise that her intentions were honorable so I would drive away in good conscience?) her cell phone.

She pretended to talk on it (because she dialed nothing) as she stared into the plate glass window, gauging my attentiveness through its reflection.

I had to laugh at that.

Oh, yes, what conversation did one need to have before such a purchase transpired?

Hi, Mom.

Did you want 25 or 35 of those monster-sized candy canes?

But when I waited out that ruse she just kept shuffling through the shelves, as more and more shoppers passed, hardly giving her the unmemorable getaway she had imagined.
And I almost shrieked at evil's gain when an unsuspecting shopper left, lifting her bags out of the green shopping cart and our shoplifter seized it, holding the old receipt in her hand as she filled the cart with contraband.

(Granted, I had a 2:00 appointment but was hellified if I was going to budge until she either abandoned her enterprise or was broken by my waiting and went inside to actually WAIT IN LINE to pay for the basketful of goodies.)

But she did, finally wheeled the cart back into the store, but my conscience pricked me and told me to hold still.

Sure enough, I watched five, six, seven more customers enter and there was the thief, standing at the entrance, watching to see if I had left so she could push back out the exit.

The nerve!

I had complicated her strategy but she hadn't changed plans.

(I could see how kleptomaniacs got high from the tension.)
Then, with the next wave of exiters, she pushed the cart out on the heels of an elderly couple, but the receipt that she was holding so prominently—as if to thwart any accusations of theft before they were posted—flew out of her hands and she lost control of the cart.

It rolled down the hill and into the side of my car, which I had pulled out of its spot to follow her and ask her DIRECTLY what she thought she had gotten away with.

The elderly couple had stopped to assist her (!) as she ran after the cart, which I was holding in my outstretched arm from behind the wheel.
"Oh, sorry," she said, scurrying after the telltale, runaway cart, refusing to lift her eyes.
I held on to the cart for a second longer than was necessary, boring a hole through her skull since she would not meet my gaze.

"Shame on you!"

I whispered hoarsely, shaking in rage before I drove off.

(What was I supposed to do, make a citizen's arrest?)

"You and I both know you did not pay for those."