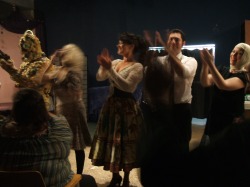 I wore gloves today, had to put them on after walking out to the car and seeing frost on the windshield; that's when I turned on the heater and went back in the house to resurrect these gloves from the hall closet.

Some things are easier to wait for than others and, for me, winter is one of the easiest.

Thin-blooded Texan that I've become, I am never in a hurry for its arrival.

Then, driving along, an enormous peppermint-striped tent pops into sight along the access road and that means Christmas trees are for sale underneath the sprawling canopy.

Flipping on the radio, I note that it too has turned colors—Christmas carols on three of the programmed stations & Thanksgiving isn't until next week.
What's the rush?
I think and as I form the words all four lanes in front of me go red and my reverie is broken by a wall of tail lights.

(I would find out later, after 59 minutes of idling with motor running, having inched along one exit on the freeway until we were forced off of it, that police had closed the highway due to an explosive accident fire trucks and clean up crews were contending with.)

And, ridiculous as it sounds, traffic jams would be more bearable with planning because I had to pee and would never have had that second cup of coffee before I left the house had I known I would be at a standstill for over an hour.
Few things test patience like traffic jams (and rush hour accidents are the worst).

The longer I sat there the worse my mood got.

More uncomfortable than the foot tapping I was doing because I desperately needed a bathroom was that standing still meant I had no choice but to let my thoughts wander—a task I had been avoiding all week, and staying busy enough to crowd the mind was simple.
But it was too late now.

My worries had caught up to me as, trapped, my mind dragged me back to last Sunday's auditions where I watched (again) in mild terror as actor after actor piled into the corridor beside and all around me:

I stopped counting when I got to fifty.

That I detested the rawness of auditions is common knowledge at this point but when I admit that this was the first one I had had the gumption to get it together to attend since March, you will feel my pain and know how badly I wanted this.

For it to go well.

And quickly, which of course it didn't (that was nearly a week ago and no cast list has yet been posted.

How cruel to leave so many hanging for so long.

I have never waited this long for results to be announced).
Compound this picture with the mouths that chattered the whole time.

With half a hundred nervous voices rolling up and down the extremes of hysteria as they bragged on their latest gig or acting exploit, news travels your way, whether you like it or not.

"I heard only two parts aren't cast yet. . .the other roles are returning characters."

Then one of this company's regulars smiles and I know the rumor is true, not to mention that she tells me as much herself.

She's not "really auditioning" because she "has a part."
It is a too familiar scene for me, as I have done theater in three states and for twenty years.

I want to block them all out, the two hopefuls doing stretches on the floor, the bored five or six standing around eating a plate of cold fried pickles, and young others holding their glossy headshots and resumes trying to keep them from bending as they pace or text.

The director is taking forever to call in each head of cattle by its brand and many are complaining, eyeing watches or asking each other what time it is every five minutes.

I am Number 10 but my poor friend, Robert, who gives me the only bit of comic relief I can muster in the tension, is Number 31 so I lose him when he goes out to smoke away the time and I get called in. . .
Needless to say, auditions started at 6:00 and I was there until 8:20 p.m. when, after what felt like a cheatingly short period in the inner circle, gripping the coldest script I had ever had to sight read, I was back out in the cold, literally, walking to the truck where my husband waited.

I see him see me as he flickers the headlights and tears slip down my cheek; he is such a good man who loves and believes in me, supporting me with his silent presence.

"How did it go?" he asks, getting us back onto the freeway for home.
"I don't know.

I never know.

How can you tell?"

I say looking out the window, wondering how I will have the stamina to keep doing this and why, after all this time, I haven't developed or acquired the skin for it. . .