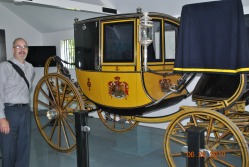 November calls, promising consistently cooler weather and the holiday seasons; still, getting moving some mornings (not to mention motivated) takes nothing short of a prod from God.

Armed with a thermos of Arabica and the go cup needed like a drip for a coffee IV, I folded my body into the economy car that has been my horseless carriage for a decade (getting closer daily to the concept of a new car and head room), and before I am wide awake I have secured a place on the freeway, squinting headlong into the sun because I lost my prescription sunglasses.

(I misplaced them months ago but they were so expensive and such an ordeal to replace that I have been driving more or less blind without them ever since.)
Today as I drove to the office from memory as much as anything else (there is salvation in repetition), I listened to an Amos Lee CD a friend burned for me over a year ago because I guess I was, finally, starved enough for inspiration to get around to really listening to it.

Yet as I relish the diversity of new distractions, I wear the ring of another year around my waist and mourn the passing of another Halloween, fashioning the day's musings after the childhood classic, Good Night Moon by Margaret Wise Brown. Here is my adult version:

Goodnight barrage of garage sales and hours of enduring bargain hunters.

Sweet dreams to the sweet girl who bought the princess plate, cup, fork & spoon set for a dollar.

May every meal you eat with it grow you closer to your dreams.

Goodnight orange glow of the harvest moon and the night screech of bats.

Goodnight amber enchantment of fireflies and toothy pumpkins.

Hello turkeys and frothing heads of dark beer.

Lookout, Wurstfest, polkas danced in chicken hats, lederhosen and dirndls!

Goodnight birthday candles and scary movies (or a scary amount of birthday candles).

Goodbye sparkly eyelashes at the cosmetic counter.

Go back to sleep you mummies, vampires, and goblins.

See you next year pirates and ninjas.


Goodnight rainy month of hailstorms.

Goodbye old eyeglasses and another year of other lost things.

Goodbye mosquitoes and hello flu shot.

Goodnight dishes in the sink and unswept floors.

Goodnight poor neighbor, shaming his costumed teen as he slurs his speech and sloshes the cocktail out of the tumbler he carries and at the feet of the daughter he tails.

Goodnight fallen leaves and bald trees.

Goodnight candy corn and, October, I tuck you in and fill your eyelids with sticky k
isses.

Until we meet again. . .

Ready for the new day now, I waltz through the ornate office doors because (glasses or no glasses) I know my heart sees best when my eyes see nothing at all.