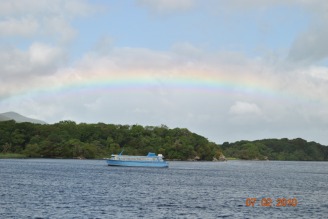 "She who wants to sing will find a song." Swedish proverb
I attended a memorial service today for a friend in the arts, and it was one of the richest celebrations of life I have had the pleasure to witness.

God love you, Anne, but I want to go out like that, surrounded by a team of family & friends who share stories about me, drawing them close in my absence.

I want plenty of music too, lots of laughter and jokes--especially ones said at my expense. Please, do: roast me and toast me, let me know I did something eternal with my time here and that I touched your life.
When I have gone to the other side of my rainbow, won't someone stand up on my behalf and say what Anne's neighbor declared, "God has posted the CLOSING sign on her show--and it's way too early, and I am not happy about that"? Those that knew dear Anne the dearest gave her a rousing goodbye, showering her memory with so much joy and grief that the rest of us couldn't help but get wet ourselves. It was like being in a mourners' splash zone.
When I shed this mortal coil, I want my friend, Kim, to sing something Enya-esque, an ethereal song where the highest notes take off the roof in the church to let our spirits soar, notes rushing upward in their quest to catch up to me on the cloud I will champion to heaven. Then, I'll insist you hold the hand of someone you do not know (yet), kiss a stranger and eat too much glazed ham.

This post, an earthy poem written after a dream I had about heaven, is dedicated to the memory of Anne Hair, lover of people and of all things musical:
Your dream bed straddles an endless road,
loose ends of its white sheets flapping.

At first,
there is nothing to see but dirt. It exceeds vision
and night brings the realization:

nobody has passed along the path,
but then sleep peoples the dusty world with memory.
Houses copied from reality
appear
,
furnished
with friends.

A
s cottages fill
, your beloved trickle
into the next on
es that emerge down the street like busy
lines of tulips.
Souls relocate
effort
lessly
and trouble does not follow.
(Where will I find the time to visit every one? you wonder,
a giddy prospect
to have to reconcile.
. .
)
I must
have passed on
, you reason
, t
o have them all here
together at once
.
And
now, the impatient listen and mouths
open to make music (and for kissing).

Ice cream is free,
never
melts, and makes for a good breakfast.

Heaven!

y

ou repeat,
will
ing the scene
to last, savoring details like the woman
who stopped speaking to you in college who stays to chat.
Arguments resolve, impossible projects are finished, and errors
c
rown
into
glories.

Your lovers start a ski team, laughing at uniform
ideas, and a lush garden grow
s because you thought about one,
colors bursting from your outstretched fingers
as what was desert becomes
village.

Hearth
s stoke themselves
and m
ercy anchors
rocks you would have thrown
because love is not feared. Here, i
t spurs on
every living
thing, your grandchildren,
the soulful
apples that roll at your feet.
You keep walking until at the
dream's edge
when you stop
to gaze into a picture window where
your mother is healthy and your father, happy.