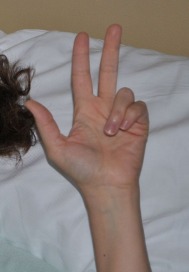 My Dear Daniel,
When I think of the most daunting tasks I picture the annual Native American custom where they gather the pubescent tribesmen who must run, let's say, five miles barefoot across the desert, and if this rite of passage isn't tough enough, each young man must do it with a mouthful of water that they are not allowed to spit out or swallow.
Perhaps it is merely a result of reverse psychology but knowing I had to return that measure of water to the elder who had dispensed it would make it a preoccupation for me on my run to prove myself.
As I ran if I didn't carefully distract my thoughts, the three tablespoons of liquid--this trace detail--would swell in my imagination until I felt like I was transporting a lake in my mouth. I would unduly focus on the water which would become so tempting as I started to sweat and, yet, this solution to the thirsting problem would also become burdensome when the inevitable need to pant or breathe out of my mouth in exhaustion arrived.
The cure to any marathon project lies in pacing and in keeping the finish line out of mind, letting each step be enough, counting the inches you have banked behind you to propel you forward. But that philosophy, Daniel, is easier spoken than realized.
Take blogging.
Four months deep into this jungle of a race, am I content that I have completed a third of a year?
Of course not, I am more worried I won't have the stamina for the next two-thirds of a year (
because two is more than one
).
But, honestly, that's not the problem that looms in front of me most days.
What exists for me, an irritant that was not even a speck on my horizon before I put myself out onto the middle of this cyber Petri dish, a bacteria glowing under the lens of whomever wanders into this domain to inspect my growth, is a critical element in the blogosphere called VISITORS' STATISTICS (charts that graph hits your site receives).
Don't get me wrong.
I've had surprisingly wonderful feedback, so many readers who write to let me know they enjoy my column and look forward to reading it in the mornings with their coffee, or during a lunch break; I have even had the diehard fans who have programmed my site under "favorites" so the blog comes up for them at the click of a button.
(How fantastic is that?)
But this is where the mouthful of water chokes me…
The counter on the website reached almost 3,000 my first month out but numbers have not
increased
at that amazing rate of speed.
(Now, there is a problem with that
free
counter
; the actual "hits" on the blog has surpassed
9,000
but the counter mysteriously disappeared for three weeks and when we got it to go back on, it would only start at "0" so the number displayed does not match the hosting program's count: being free, it's a simple program that won't let you change it).
A more complicated factor to address, however, is
readership, which fluctuates, and many—even the regulars, lost in the hecticness of their own routines—have fallen behind in their readership habits (even my husband will admit as much), visiting the site once a week and then reading the entire week's entries at one sitting. The blog, established now, is not a novelty anymore and the curious are either hooked or they have moved on.
I do not mean to drag you behind the curtain, again, Daniel, but that is my not quite quarterly "progress report," a silly anxiety that says more about crunching numbers than it reveals about who is reading and what they are feeling about it.
Above all--and not just in the abstract--desire for and commitment to a goal matter and in order to finish what I started I must be consistent even when variables (the people & things) around me are inconsistent.

Communication is vital and I do care what others think, but w
hen I
dwell
on this I lose all pleasure and the purpose to such a run altogether
(surely you can relate to this in your own writing).
I want
not
to see the numbers,
not
to concentrate on how many eyes are reading me—or no longer following as steadily.
I want the water in my mouth to remain clear and to run my race focusing on the quality of its expression, not on the quantity blankly listed on the computer. Besides, tell me of a single race whose success or distance covered is measured by those still running alongside you or the ones you may have lost along the way. Keep pedaling, keep pushing, put one foot in front of the other and let the knitty-grit fall to the wayside, dust under your racing feet.
Peace, Love, and Fluffy White Bunnies,
Rita