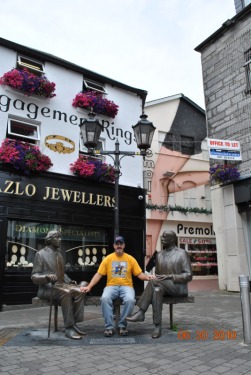 As children on the playground, at home or in the car, nothing was more annoying than a copy cat, especially when it heightened into the mimicking game where a sibling or a bus mate started repeating everything you said and did—with a whinier tone and an exaggerated flourish.
"Knock it off," you would say, waving your hand to make the mimic stop.
"Knock it off," your tormentor repeats, a hair's breath after you.
Maturity lays to rest a lot of childish nonsense but the copy cat doesn't necessarily go away when you grow up:

the game changes.

It becomes less about irritating or making fun of you and more about competition; therefore, it is more threatening in an aggressive workplace where the next new idea is your only job security.

What does the COPY CAT look like in the adult playgrounds?

It's

the guy at the bar or in a social club who hears your original quip to the group and then sweeps it up, adding it to his repertoire and using it every chance he gets, wowing the crowd with his cleverness. In academia we call the adoption of someone else's creative property plagiarism (or as a college mentor stated unjustly, "The amateur writer steals. The professional borrows"). And I am not referring to impersonators or when "imitation is the highest form of flattery."
Sometimes the copy cat is a colleague or another committee member you have discussed a situation with—or worse, the manager who usurps your ideas, as well as the exact phrasing of your salespitch ("we are triangulating various strands of the demographic in a stream of consciousness format"), your words flowing so comfortably from her lips as she proudly addresses the next corporate large group, credit to the originator getting lost in the ego soup. (Your only consolation is that the ripoff artist doesn't know what she's talking about and so says "conscience," a mistake only you get, as is the irony that a conscience is what helps us judge right from wrong. . .)
Is adult copy-catting innocent thievery?

Did you communicate your thought so succinctly and yet eloquently that the temptation to "borrow" (as such a one told me repeatedly) is too great?

The originality

captivates them, your words burrowing into their brains where they will remain frozen until he/she finds a way to reuse them as his own brain child, or so she believes. The most blatant example of this was when a former boss asked me in private how he had done in addressing parents and my evaluation had simply been, "You kept the focus positive without being dismissive of the more profound factors," and I'll be damned if the expression didn't become his anthem.

I got to where I'd cringe every time he resurrected the sentence at function after function as my words began to define him.

In the end, I swear he believed he had handcarved the words himself in a font of his own making. . .
A stand-up comedian would resort to punches if you stole his humorous anecdote, but I can think of one individual I have had the displeasure of working with in a theatrical production who is notorious for stealing other actors' ad libs. Many directors and choreographers will have spots in the action where they tell the cast to make something up to fill in the blank, and like in the Statues game we played as children—no one can repeat a pose.

But this guy I was telling you about will steal your dance move or comedic motion, every time.

And he's not subtle.

Suddenly, on take two (because he came up with nothing himself the first go round) there is what's-his-face pulling "bugs" from the actress's hair as his form of torment and not only is he stealing your demon bit but he's jumping on it a fraction of a second before you do so you look like you are copying him.

Now, he is in for an ass-kicking in the real theatre world, once he gets out into it, because I have never seen a full-fledged actor with any credibility or sense of professionalism do this so scene-stealer will get what's coming to him. . .but it is aggravating in the process.
Humans are
, as poet Robert Hass states accurately, pattern-discerning creatures, and no one can be original every second of the day but we all can--at all times--respect the creative ownership of others.