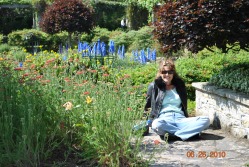 "Morning, Margaret," I say, probably too loudly, when she arrives, back slightly arched with age, signs of arthritis or what's technically referred to as the Dowager's Hump, although my mother always liked to call it a buffalo hump which tickles my funny bone with its accuracy (not that I want this condition myself, under any name, medically accurate or not).

I sit up straighter at my desk just thinking about it.
I love Margaret. Seeing her walk in dressed up but with pristine white sneakers on her baby-sized feet makes my day.

She is genuine cheerfulness itself and she makes me feel like there is still a great deal of goodness in the world, and here it is, as a matter of fact, right under my nose. She is one of my favorite people and I do not know why, other than I cannot help but smile when she appears every Friday like clockwork to fold bulletins. She is a widow and her children live out of town but there she is, early every Sunday, in the front row at church ready to start the day in worship.
"How are you today?"

she asks after we greet with a hug, but no sooner are the words spoken and she is off telling me the tales of her week, eyes flashing as she relays how she had climbed that tipsy ladder to unplug the battery on the smoke detector (because it wouldn't stop buzzing) and almost fell to break her new hip.
"Margaret!" I chastise, worried about her under five foot frame and poor vision, brittle bones using the ladder when she is home alone.

"Don't be doing that.

If you need some help, I get off at one and I'll be too happy to do it for you."

She never called but brought me a dozen homemade chocolate chips cookies, all the same, the next time I saw her.
Margaret's mind is sharp and she always smells like fresh linens, powdery, a sweet scent that seems to issue from her personality, one that makes me feel like we are standing in a flowering garden; it makes me want to bite her, she's so cute.

She brought me a voluptuous gardenia once, wrapped in a moist paper towel.

"It is from the tree outside my kitchen window.

Isn't it pretty?"

she had gushed, handing it to me.

"Just thought you might like one, brighten up your day a bit.

I picked the lushest one I could find."
"I can see that!"

I gushed back, kissing her cheek and burying my nose into the aromatic blossom.

And don't you know, that day, the scent would waft up and hit me anew, so intense was its fragrance, a constant reminder as I worked of the power of kindness.
Margaret makes me want to forgot how the day started—ill with my least favorite neighbor pulling out her motorized menagerie of yard tools to mow the lawn at 7:35, ten minutes before the alarm.

Margaret makes me want to remember, not the week's lowlights but its highs, like the brown caterpillar I saw inching across the busy road after I had dropped off Seamus for community service.

I was threading myself back home when the sunlight blinded me, forcing my eyes down—and there it was, the sunshine illuminating each tiny hair on this vulnerably fierce thing's back, a thousand fuzz-covered muscles scurrying it across the street.

This Discovery Channel-type moment, the simplest most amazing sight I had ever seen, I would have missed had I not been forced to slow--and look--down.
I walk slowly with Margaret back to the work room, wanting so often to cross the line of propriety by affectionately patting her white hair, which sits like a fancy cotton ball on top of her head or like the fluffy tail of a white bunny that scampers across the yard, too soon out of sight.

But I refrain from petting her or attacking her in any such overly familiar fashion, wishing I could tell her what her goodness does for me, how her heart of spring lightens my step and how she brings me a small slice of God, a fraction of what it must be like to share with God the same space for a minute.

I never feel like Margaret is trying to be anything but love, and she embodies it.
You can keep your "whiskers on kittens." Give me Margaret, just ten minutes with my smiling Margaret and I am ready to shine (as my friend, Sara, encourages) some "fearless love" back at a callous world.