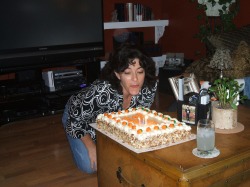 Don't know where this note finds you on your journey, engrossed in some homely routine or pastime, maybe even investing yourself in a longer project with lasting effect, but I think I may be falling apart, really fraying at the edges.

Although parts of today were distressing, nothing could account for the way I unraveled at the front gate, pushing the automatic gate opener over and over again wondering why the barrier wasn't moving, and then the waterworks started.

I lost my breath for a second as the sob backdrafted, the kind of undulation that is like a wave building out at sea that then crashes onto an unsuspecting shore.

That was me earlier doing my impression of a tidal wave, trying on this year's Halloween costume:

the Wreck of the Hystericus.

(Luckily, there were no passengers or witnesses.)
Funniest thing is there was no major catalyst; I say that and recall the college courses in psychology that reiterated it never is the catastrophes that push a mind to snapping but the accumulation of negligible erosions, the daily spider-vein stressors that get under your skin and do the most damage over time.

But that news is worse, perhaps, because if it is a creeping vagueness I cannot put my finger on, then how can I hope to identify it to start the problem solving?

If I am honest, however, and trace my steps I can see that today's irritation was another in a gathering line, pinprick reminders of a similar theme that have been happening more frequently the last few months—that and the fact that I am feeling stuck in my life.

Oh, and my next birthday is fast approaching.
A few years back, I read a science journal article that claimed:

Middle-age is depressing.

Chuckle if you will at the researchers who spent a better part of their own youth and millions of hard-earned grant dollars becoming MOBs (masters of the obvious) but it is true.

Ambitious people pursue, achieve, peek, maybe even plateau and . . and then what?

What comes next is a riddle any English student could answer:

all stories have conflict that initiates the rising action until it boils at the climax, and then the falling action moves into dénouement (resolution). Certainly you are no stranger to the term, Mid-Life Crazies, but feel free to pick your poison as the end result is the same:

Ripe.

Over the hill.

On the decline.

Past your prime.

Mature (especially when pronounced with the hard "t" to rhyme with manure).

Awareness has given me more compassion for the parade of hair-transplant recipients zooming around in red sports cars, collecting silk panties in their glove boxes.
For most of my life, I was one who truly did not experience regret as I felt accomplished, like my progress equaled the years I had been alive on the planet.

But these last five years I feel myself stumbling and tripping like I cannot find my footing.

Then, today, it was so pronounced:

one minute I was talking on the phone to a friend (we haven't spoken in years but our friendship used to be very special) and the next thing you know I am having a very-public breakdown like Mariah Carey mumbling nonsensical syllables while stripping in front of live television.

–What am I rattling your cage for about this?

You are in your twenties; these kinds of complications don't yet exist for you.
Maybe it was my friend's announcement that she is pregnant and--although she is older now than I was when I had my son--she was getting ready to hatch her first egg and I was closer to being an empty-nester.

A face-to-face meeting was planned then it got relegated to a phone call but, still, the

news was joyous and I congratulated her heartily, hurrying off the phone when the gate wouldn't open because the convergence of circumstances was unduly ironic to me.

Her voice, the call, the news reopened a chasm and there I stood stranded, unable to get into my own community but I risked falling into the huge hole in front of me where our friendship had stood like a bridge across the un-doable, the un-knowable.

The un-thinkable.

There was a chasm alright, a void between the intimacy we had shared and the absence it had become.

This blow to the cranium with a tire iron woke me to the reality that there was more than distance between us.

Maybe I overly attach to too few people or love too much but t

here were differences in our lives, who we were, where she is on her path and where I am not.

The broken gate insisting that some doors do close—and stay that way, and other opportunities are time-sensitive—and exclusive:

people die, lose jobs, move away and grow apart.

Some paths only flow in one direction, and those limitations are hard for me to swallow.

Denial, Daniel, is preferred:

I wish relationships would stay strong and last forever, and that I had immortal energy to fix hearts and homes and ships and lives. I want everything to be possible for everyone always.

And it isn't.

It just isn't. . .