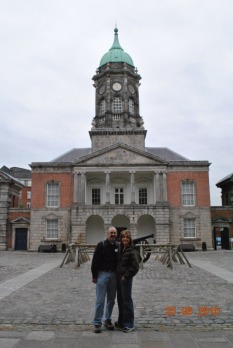 A great crowd had gathered outside of Kilmainham
Their heads all uncovered, they knelt to the ground.
For inside that grim prison lay a great Irish soldier,
his life for his country about to lay down.
He went to his death like a true son of Ireland.
The firing party he bravely did face

Then the order rang out: Present arms, and Fire.
James Connolly fell into a ready-made grave.
The black flag was hoisted, the cruel deed was over,
gone was the man who loved Ireland so well.
There was many a sad heart in Dublin that morning
when they murdered James Connolly, the Irish rebel.

I was a rapt pre-teen sitting in the smoke-filled Irish American Club on the East Side (Euclid, Ohio) when I first heard the legendary ballad; a touring songstress in a white sequined gown sang it out in her throaty alto and I so wanted to be her, traveling the world to share pithy, cultural—even controversial—tunes so I did get a little queasy as an adult, looking at the likeness of himself on the castle wall, the picture of health, knowing full-well that this is the very room he had been tortured in, already wounded so badly in the Easter Rising rebellion (1916) that he was in and out of consciousness and unable to stand.

Nevertheless, a British firing squad had hauled what was left of him into the courtyard, taped Connolly's gang-greenous body to a chair (so his torso would be upright) and shot, in essence, a dead man.

When asked to pray for the soldiers about to shoot him, the Dublin Brigade's Commander in Chief purportedly said, "I will pray for all men who do their duty according to their lights," and as politics would have it, news of the 47-year-old's execution only raised sympathy for his cause.

The Dublin railway, Connolly Station, was erected in this staunch Marxist's honor, a fact Irish Republicans (Catholics) tend to bury.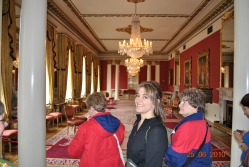 I have always had a weakness for a passionate, even a wayward soul, and I crushed on a seminarian or two in my girlhood, as in love with the fierce principles that guided them as the men themselves, but Dublin Castle, impeccably preserved, seemed like a place that ought to be haunted with its uneven history and bloody past.

It was, however, still a thriving government building, and Irish President Mary McAleese, the first president from Northern Ireland who was currently serving her second seven-year term, held press conferences there and many public events and gatherings were hosted in its large meeting rooms, some of which were under further renovation.
"All of the chandeliers in Dublin Castle are from the finest crystal the now defunct Waterford factory ever produced; there is enough lead in any portion of a single tear drop piece hanging from this chandelier above our heads to set off the metal detector in an airport," our guide told us, before pointing to the huge portraits painted across the ceilings.

"And these depict the Irish as mythic, carnal beings—note the dress that has slid off her nude breast and the wild hair.

It was just one more way to keep Ireland captive, to portray her citizens as out of control nymphs, less than human."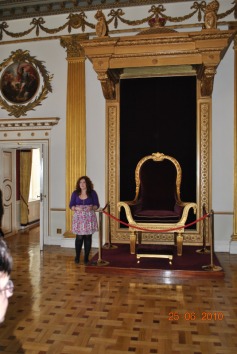 Dublin Castle, founded in 1204 by Prince John of Robin Hood fame after the Norman Invasion of Ireland, has no trace of medieval architecture remaining above ground level with the exception of the Record Tower along the exterior wall.
My favorite part of the 800 year old structure that has accomodated 150 viceroys was The Throne Room, the canopy of which was built to withstand the heft of visiting British monarch George IV, who tested the wood the seat was made from weighing in at almost 300 pounds (almost as much as America's heaviest president—William Taft—who tilted the scales at 330 lbs).

Oddly enough, the throne also held the body of the longest reigning but smallest British queen, Victoria, who aspired to be 5 feet tall and whose feet did not touch the ground.

The walls and ceiling around the throne are adorned with an admixture of symbols:

the lion (Tudor), the unicorn (Stuart); and the rose for England, the thistle for Scotland, and the shamrock for Ireland, remnants of the wild ride that is Irish politics.



(History not your cup of tea? Up next, we wet our whistle at the Guinness distillery. . .)