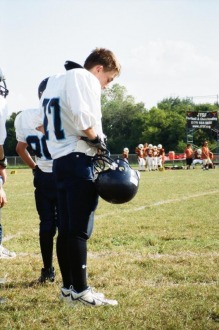 "Throw it here, Dad!"

Seamus yells, lunging to the left and falling to the ground, but the football, a smooth-sailing rocket that only my husband could propel, one that would bore a hole through my core if I had tried to catch it, lands that impossible extra three inches away, those tiny sums that mark the difference between close-call and victory.
"Did you have to throw it so hard?"

I mumble, getting into position because the next throw is to me.

I run while unzipping my hoodie because it's hot and we are in the park getting fresh air & exercise after an oversized lunch of Mexican food.

I love Sundays because they are spent like this, knocking around and catching up on each others' lives before the next frantic week sweeps us along.

Sundays are sacred in our house because they are Family Days; Steve, Seamus and I take turns picking where we'll eat after church and then selecting an activity to do together.

Today was Seamus' turn.
"Don't get it in the water," I say, nearly jumping out of my clothes to stop the ball from rolling into the mosquito-ridden brackish water hazard; we are a traveling triangle of bodies, following the disc golf course as a guideline, not much skill involved on our part as we toss the football into basketfuls of chains meant to capture thin Frisbees.

We had invented our version of it the day we had stumbled upon the sport. "So much for being the only woman in Man Land, the village," I tease my husband and son again, because when they start getting competitive fun goes out the window and tempers flare.
We have been coming here for years and this is my favorite local park because it's tucked inside an older neighborhood next to the city pool and two sprawling businesses.

As the years have passed and our son has grown, we have watched the park develop into an established green space replete with pavilion and rubber-tire protected playground.

We love its shaded trails and hilly climbs that wind you through a rather shallow woods while allowing you to feel as if you could get lost in its acreage of forest, which you couldn't (well, lacking a sense of direction, I could get lost almost anywhere).

–This scenic delusion of grandeur may also be why a faction of Renaissance fans, jousting in costume and speaking antiquated English, practice alongside the duck pond there.
The park has a bit of everything; once, years ago and on a whim while walking the higher elevations along the eastern side of the park that acted like a levee around the adjoining ponds which were being drained and rethought that summer by the Army Corps of Engineers, Seamus and I even went "sledding" down the grassy slope.

Seamus, spotting cardboard scraps, asked what they were for and I did some quick figuring then down we went, the grass not as slippery as snow but gravity made it more or less inevitable.

Steve looked on skeptically while Seamus and I took turns sliding down until we tired of the friction (which made the seat of your pants burn) or the cardboard ripped.
I smiled to see the two of them wrestling, now, playfully trying to pull (or push) the other into the ditch, and I recalled the day we had found the park, not a happy chapter in our family history or a pleasant memory.

Seamus and I, new to the area, had been exploring on a bike ride after dinner when he had thought it would be funny to race on ahead of me—and over the hill and out of sight.

It was dark, getting darker, neither of us was familiar with the streets, he was only in the fourth grade then and cell phones weren't available (and wouldn't be for another year yet), but we wouldn't have been able to afford them anyways (and you would need two or there'd be no point).
What was he wearing?
I thought to myself, terrified that that might have been the last time I saw my son and I was drawing a blank.

I peddled until I thought my heart would burst, pushing on and on, imagining filing a missing person's report.

I cried and peddled, peddled and screamed out his name—and nothing.

I finally had to go home and call Steve from the land line, driving around in my car until I found Seamus, tired now and lost but singing to himself, still fearless, too sure in his way that I would discover him.

When I did laundry that night, I cried again to see that he had filled his pockets—and he always did in those days whenever he was out and about—with rocks, and how he would like to show me and tell me why he had selected each one. . .
As the three of us piled back into the truck, done here today for this trip, I counted my blessings for special places I could revisit, ones that held memories for me when time itself just kept slogging forward.