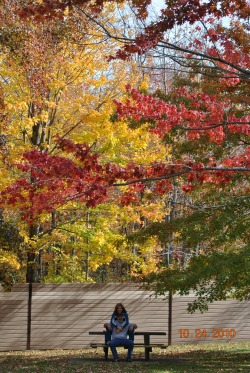 Humans were given five senses and eyes, ears, noses, hands, and

mouths for a reason, but beyond the basic function of food & water as life-sustaining staples eating is a passionate pursuit, especially when it comes to those special treats you only get annually when a particular holiday arrives.

Here's a fun verbal analogy on holiday traditions; fill in the blank.

Pumpkin pie: Thanksgiving :: candy cane cookies : _______________.

(If you said Christmas, then you are at least a naturalized American.)

Now, my brain wants to do more of these: ghosts: Halloween:: angels: Christmas;

ornaments: Christmas trees :: candles: birthday cakes;

and red, white & blue: Fourth of July :: green & red : Christmas.

I know, I know.

As the show suggests, I will curb my enthusiasm. . .
What are your fall traditions and how does your family recognize Halloween?

As a Midwestern kid, my least favorite occurrence during autumn was raking leaves, a hated and ongoing chore.

I had blisters and then calluses on the palms of my hands for my diligence but the trees seemed relentless, much like they were shedding on purpose, producing more debris than the magical machine at the bottom of the ocean churned out salt.

But if the season's additional duties were spiteful, there were rewards on the horizon because every fall, usually on my birthday, we would travel as a family to a haunted house, and we also always managed to find a pumpkin patch or hay ride.
A final tradition I could have done without, however, was the chili we were served every Halloween for dinner. Now, I love a good, spicy (not greasy) chili recipe, but this version had onion chunks that were too big to swallow that gagged me when I tried to chew them down (these days, if and when I make chili, it is with turkey meat and the onions are minced).

The tradition I have carried over into my family that is most anticipated, however, is baking apples.

Every fall my son asks, When are we going to do baked apples?

So two weeks ago, we bought the biggest, juiciest apples we could find, cut out the cores, inserted butter, brown sugar and cinnamon with a dash of allspice into the cavities and baked them at 350degrees for an hour, and the aroma wafting through the house while they cooked was almost better than the taste of the softly spiced flesh of the warmed fruit.
Fall's beverage is hot, mulled cider stirred with a cinnamon stick, just as November's chill tickles the tastebuds for homemade hot cocoa.

And a majority of these foods are only available in the grocery for a month or two like the carrot cake with cream cheese frosting, and in this part of the country with Wurstfest (the "Festival of Sausage"), it's jalapeno and cheese brats with sauerkraut and German potato salad.

(Surprised?

Yes, Texas has many residents of Hispanic heritage but in the surrounding suburbs I would venture that the older population is of German influence, and towns like New Braunfels, Schertz, and Fredericksburg are either named after German cities or patronymics).
Fall is time to fly the colors of burnt orange, maroons, and creamy browns, and it is also the only time you can catch the smell of salted pumpkin seeds baking in the oven, but the scent that I most equate with fall is the unmistakable tang of those leaves I hated to rake, especially when they have started to curl and brown—and, isn't it funny that it is the only instance I can think of where I prefer the smell of an object, not in its prime but as it is undoubtedly decaying?

But the palette of the fall treeline wouldn't be the same without these brown and often leafless trees.
I just lit a scented cinnamon candle, a smell I enjoy year round, but in this season of The Great Pumpkin, a title Charlie Brown's fans will remember and about the only child-themed Halloween show we watched every year as faithfully as we did The Grinch at Christmas, would it betray my friend, Fall, to admit that I prefer sweet potato pie to pumpkin?