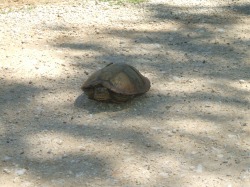 For the most part, I close my eyes when getting work done at the beauty salon, as stylized beauty is very ugly in the making.

I do love the scalp massage that follows the shampoo and the feeling that I am being petted as my beautician cuts the hair, but otherwise I sit, cast into awkward postures while terribly lit in an assembly line of adjustable barbers' chairs before a peroxide bake that, surely, lasts an hour under the cement mixer of a dryer, scaring away aliens for miles (since coloring involves a temporary "do" comprised of loads of aluminum foil patches).

I feel like an extra in the Frankie Avalon "Beauty School Drop-out" video and I hate it; good thing the overhauls only happen a few times annually.
The woman who manages my hair also owns the shop and the poor dear worked so long this last appointment on my mane (for although I do not go in for nail extensions, pedicures, waxes or peels, I am a special-needs client who tends to require a weed whacker and hedge clippers as part of her maintenance regimen) that she had to ask another beautician to pick up her adult son from the care facility where he attends a day program.
"Did I show you the video of T. at their last dance?" she asks, applying straightener to my hair before whipping out a more advanced phone than I hope ever to be forced by forever-upwards-spiraling technology to master.

"He loves Michael Jackson, knows all the moves."
"Yeah, he does!

He's really quite good," I smiled, watching T. execute the same famous choreography I had been weaned on as a kid as T. was three years older than me.

And when she told me, "Oh, they dance all the time.

His program holds a big dance like that at least once a month," I was envious because here I am, a wholely independent adult, and I could not tell you the last time I had danced (outside of being an actor in a play).

That spells a lot of misspent free time on my part, doesn't it?
"How's your grand baby?"

I asked, changing the topic after T. had arrived and given her a big hug before settling quietly into a corner with an iphone that, when programmed to, poured out Michael Jackson songs via satellite.
"Beautiful as ever," the proud grandma beamed, tapping with the black tip of her thinning comb the snapshot of the coquette in question that she had tucked into the mirror at her station, "did I tell you her newest thing?

Well, she came over, as she always does because my husband watches her during the day, and she saw me trying to clean up the kitchen—which was atrocious, and she said, Nah-new, that's a mesh.

Are you gonna clean up the mesh?

She can't say mess, but isn't that cute?"
She waved, then, for her grown son's attention and then hand danced, sharing a brief moment with him as I sat in awe of her love for her life and the tender grip she had on all of its intricacies.

Guiltily, I knew I lacked her peace—with half her challenges.
As I closed out our transaction and got into the driver's seat of my car, I knew I was in the hot seat, not just because it was 96 degrees in the auto's interior. I looked myself in the eye in the rearview mirror and, new hairdo or not, I was reminded that I had become someone I wanted to distance myself from--without necessarily knowing how to get back on the road to where I'd like to be.

And, as always, as I drove I dismantled the events the day had given me for clues to a more significant message—and found it with no effort.

Bottom line:

I was working too hard for contentment, and I was, indeed, enmeshed in the mess I had let things become.

Perhaps after processing the insight--when I had the courage and energy to sift through it, I would again regain the me I wanted to be.

Regardless, I had to be realistic:

my mood wasn't going to fix itself and the road ahead would be long and progress, slow, maybe arduous.

But, I was encouraged, knowing I was already on my way, taking steps and inching along from the minute I had decided to change.